WelCom November 2018: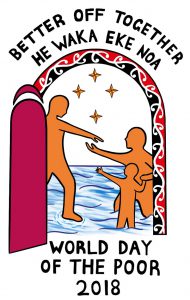 Parishes around the world will be to observing Pope Francis' 2nd World Day of the Poor on Sunday 18 November 2018. The Archdiocese of Wellington is one of 12 dioceses worldwide, invited by international Catholic organisation Fratello to lead activities of encounter, dialogue and practical assistance with people on the margins of society.
In a letter to archdiocesan parishioners on 27 October, Cardinal John Dew said, 'the World Day of the Poor is an opportunity Pope Francis is offering to us to deepen our understanding of and connection with people living in all forms of poverty – which of course was also a priority of our Synod. This is an invitation for each parish, community, school, organisation and family to consider ways you can reach out to people.'
Groups in the archdiocese are preparing for a range of awareness activities.
Parishes, families, communities, schools and households are invited to join in with any action, large or small, that invites encounter, dialogue and practical assistance. Support is available from:
Cardinal John says, 'This is a wonderful opportunity that we have been given, and there are some very worthwhile activities being planned. It is my hope your community will find something that inspires you to participate in this 2nd World Day of the Poor.'