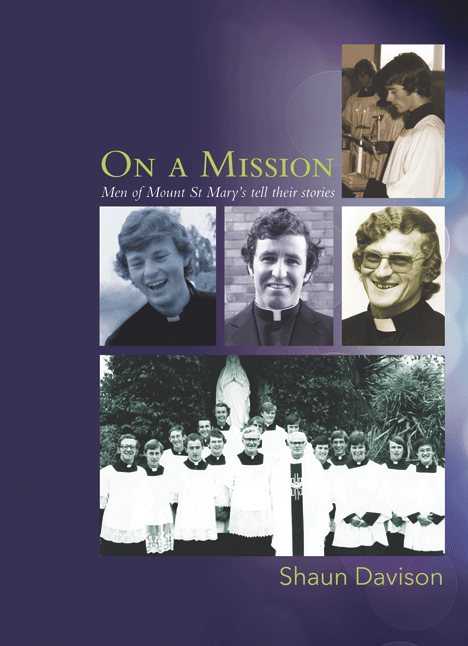 News
Mike Fitzsimons
August 2013
The stories of 22 young men who joined Mount St Mary's Seminary, Greenmeadows in the 1970s are told in a new book, On a Mission, Men of Mount St Mary's tell their stories.
These honest, intensely personal stories capture a very volatile time in the seminary's history and a way of life that has now disappeared.
Famous today as the home of Mission wines and the annual Mission Estate concerts, for more than 100 years the Mission in Hawke's Bay was the training ground for hundreds of Marist priests and brothers.
All that changed in a short space of time in the 1980s.
On a Mission was written by Shaun Davison, himself a former seminarian.
It combines oral histories with a series of letters based on diaries which Shaun wrote during his time at Mount St Mary's. The book covers both the experience of living in a largely monastic style of religious community and also the journeys that these 22 men have taken since then.
'In 1976 I joined a community of over 100 men, most of us training to be Catholic priests,' says Shaun.
They rank as some of the most inspiring people I've ever met. It was a noble mission to serve God in our world. By 1980 Mount St Mary's seminary had around 80 seminarians and we had no doubt it would carry on for another 100 years.
'Twelve years later the bells tolled for the last time. The seminary moved to Auckland with only a handful of students left.'
'Over the years I have often wondered how and why this happened. I also wondered what had happened to the men with whom I shared such an influential time of my life.
'Had their sense of mission transformed into something else or had it dissipated over the years? On the year of my 50th birthday, I set out to find the answers to these questions.'
Most of those interviewed left the seminary before ordination, some were ordained to priesthood and left, and others remain priests to this day.
The men's stories explore many areas – the intense experience of living in a religious community as young men, the nature of faith and religious belief, relationships, and the search for a mission in life once they left the seminary.
'These interviews are remarkable for their honesty and insights,' says Shaun. 'There are plenty of vivid memories of seminary life – the great camaraderie and idealism but also the struggles and shortcomings.
'There's also a self-scrutiny that is rare. I think people will find these stories fascinating.
'One of the main things to emerge is that most of these men didn't lose their sense of mission once they left the Mount. In the diverse lives they have led, there's a real desire to make a difference.'
On a Mission is published by Steele Roberts Aotearoa and is available in bookshops or online.
The book is being launched in Whangarei, where Shaun lives, and in Wellington on 10 August at 5.00pm in Connolly hall. The launch will be the highlight of a weekend reunion for Mount St Mary's alumni.