WelCom June/July 2021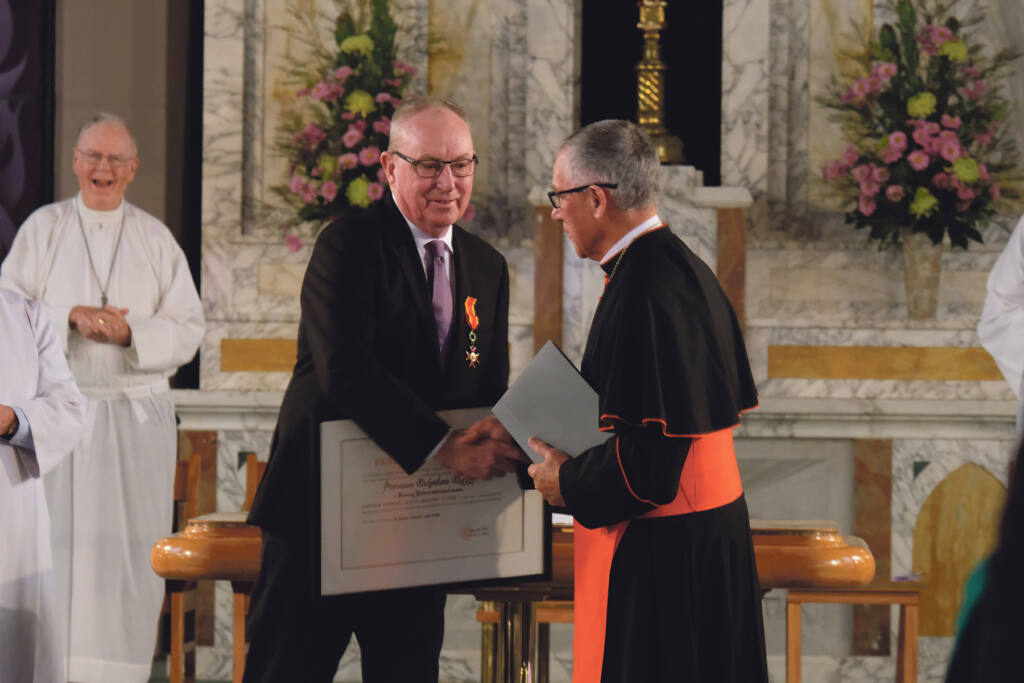 Emma Dodsworth
At a packed Cathedral of the Holy Spirit in Palmerston North on Tuesday 11 May, Tony Murphy was awarded the title Knight of the Order of Saint Gregory the Great for his service to the Church.
The title was awarded by Pope Francis and Cardinal John Dew presented Tony with his diploma and medal.
First established by Gregory XVI in 1831, the Order of St Gregory the Great is given to people who are distinguished for personal character and reputation, and for notable accomplishment.
Tony, who was general manager of the Diocese of Palmerston North for 18 years until he retired at the end of last year, said the award was a recognition for the work of the entire church.
There to support Tony were several family members, friends, clergy, parishioners and diocesan staff from around the Diocese of Palmerston North and beyond.
Also on the altar for the presentation were Bishops Peter Cullinane and Owen Sneddon and Local Administrator for the diocese, Fr Craig Butler.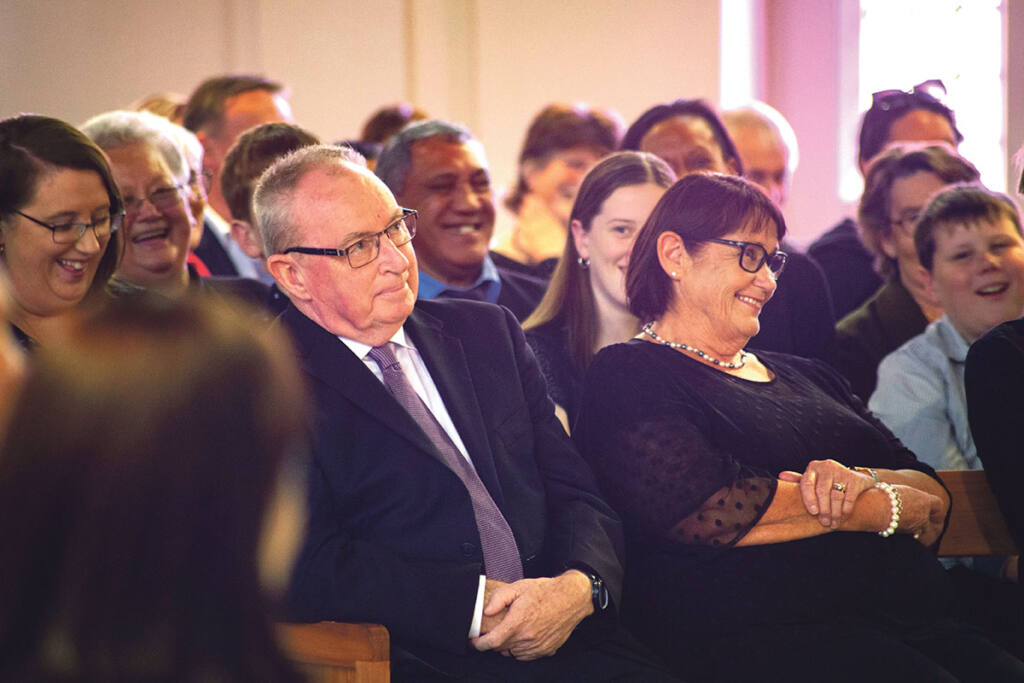 Paying tribute to Tony, Bishop Peter said, 'He is well-known for his kind, friendly and welcoming reputation, someone who is always willing to listen and support all people he encountered and worked with.'
Bishop Peter listed Tony's many accomplishments locally and nationally. These included supervising the diocesan office staffing, coordinating chaplaincies around the diocese, being a member of the Catholic Bishops' Conference Finance Committee, and being heavily involved in reviewing Catholic Education in New Zealand and the restructuring of Holy Cross Seminary in Auckland.
Tony's most notable achievement, according to Bishop Peter, was the way he worked with everyone.
'Tony's service went beyond anything normally written into a job description. He combined professional skills with common sense, good judgment and compassion. There was nothing I couldn't talk with Tony about, and I always learned from him.'
Cardinal John Dew spoke about Tony's kindness and ability to listen to and support others. 'It wasn't just for the work Tony did, it was the way he did it, his personal character and reputation – the wonderful way Tony interacted with people in Palmerston North.'
Tony said he was overwhelmed by the turn out to the ceremony. 'I thought there might be about 30 people here,' he joked, saying he was hugely humbled that people from as far as Auckland had travelled to the event.
He also commented he was initially unsure about receiving the award, and that he felt he was being recognised for something he was being paid to do.
'Across the diocese there are a lot of unsung heroes making our community, making our parish, making our country a better place by what they're doing,' he said.
'This is a recognition not just of me, but for the work of the diocese for the past 20 years.'
The ceremony concluded with waiata as a special tribute to Tony by two of his grandchildren Tom and Meg Varner.
Over afternoon tea at the diocesan centre, Fr Craig Butler commented on Tony's 'tremendous support to clergy' in the diocese. 'Tony went out of his way to show us support and was always there for us.'