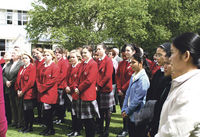 Students from Sacred Heart College, Lower Hutt, and visitors admired the new cross in a blessing ceremony on the feast of St Teresa of Avila, October 15.
Hastings artist, Paul Isaacson, below right, crafted the cross over three weeks in September.
The cross is modelled on one he crafted during his time at the EIT at Hastings 10 years ago.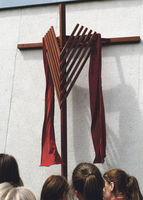 He wanted the Christ figure to be fully integrated into the cross so the diagonal pieces of Jarrah timber represent the ribs of Jesus as he hung on the cross.
'When you look at the figure of Christ on the cross the only separation away from the cross is the triangular shape of the torso. The legs follow the vertical beam and the arms follow the horizontal so this is a continuation of the triangle.'


On the feast of St Teresa of Avila, the cross was decorated with a drape in the colour of the saint.
To further integrate the cross with the school programme, the cross will be decorated with different colours on the days of the saints to whom the college's houses are dedicated.