WelCom April 2021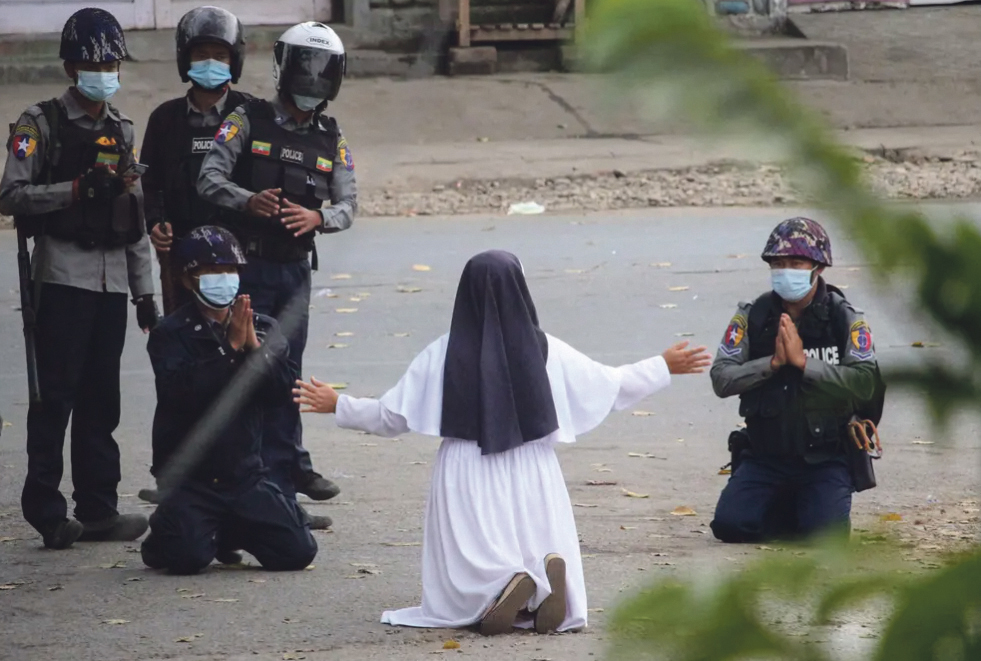 Kneeling before them in the dust of a northern Myanmar city, Sr Ann Rose Nu Tawng begs a group of heavily armed police officers to spare 'the children' and take her life instead.
The image of the Catholic nun in a simple white habit, her hands spread, pleading with the forces of the country's new junta as they prepared to crack down on protest, went viral, 9 March, as a powerful symbol of resistance and won her praise in the majority-Buddhist country.
'I knelt down…begging them not to shoot and torture the children, but to shoot me and kill me instead,' said Sr Ann Rose. 'I told them "you'll have to come through me".'
Her act of bravery, came as Myanmar struggles with the chaotic aftermath of the military's overthrow of the elected civilian leader, Aung San Suu Kyi on 1 February. As protests demanding the return of democracy have rolled on, the junta has escalated its use of force, using teargas, water cannon, rubber bullets and live rounds.
On Saturday 27 March, Myanmar security forces killed over 100 people, including children, and injured hundreds, in a brutal crackdown on pro-democracy protesters, the bloodiest day of violence since the military coup.
The killings, which took place on Armed Forces Day, drew strong renewed criticism from Western countries. UN Secretary-General Antonio Guterres said he was 'deeply shocked' at the violence.
A united statement was signed by 12 chiefs of defence from New Zealand, Australia, Canada, Denmark, Germany, Greece, Italy, Japan, Netherlands, South Korea, United Kingdom and the United States. 'As Chiefs of Defence, we condemn the use of lethal force against unarmed people by the Myanmar Armed Forces and associated security services,' the statement read.
The latest violence took the number killed in the suppression of protests in Myanmar since the 1 February coup to more than 400.
Meanwhile, Aung San Suu Kyi, the elected leader and the country's most popular civilian politician, remains in detention at an undisclosed location. Many other figures in her party are also being held in custody.