Schools
Richard Law
8 May 2008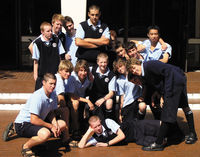 The Saint Patrick's College Silverstream Vincentians started 2008 with an innovative scheme to raise money at the McEvedy Shield Day in March.
Instead of having the students wear the traditional, self-designed McEvedy t-shirts, the Stream Vinnies organised for students to wear temporary Silverstream tattoos over their faces and arms. Vinnies sold many of the tattoos before McEvedy day and it was surprising how many could be spotted in the crowd.
The Silverstream Vincentians also organised the annual Years 9 and 10 school social, but this year for the first time, it had a theme—fluoro. Glow sticks were sold on the night and the rave-goers looked funky in many different styles of bright clothes.
Look out for these lads this year—they'll surprise everyone with their passion, organisation, commitment, and, above all, service.
The team meets fortnightly in the college's Lady Chapel. They have drawn up a roster for visitation of the sick, elderly and lonely, a duty many of the boys see as an opportunity.