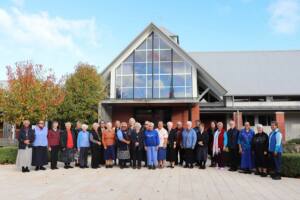 WelCom June/July 2023
E rere ngā wai pūaroha ki a koutou, otirā tātou. Let the Waters of Compassion greet you.
At the six yearly gathering of the Daughters of Our Lady of Compassion – also known as the Sisters of Compassion – the historic decision was made to re-elect their current leadership team: Sr Margaret Anne Mills, Sr Sue Cosgrove, Sr 'Alisi Tu'ipulotu, Sr Lusiana Raratini.
The Sisters, now older and fewer in number, will continue to discern and explore the way forward. In the next period of time, mindful of their current reality and honouring the vision and the commitment of Meri Hōhepa Suzanne Aubert, they will explore new pathways, such as their Congregational Governance Structure.
The Sisters say they appreciate your prayer, and are very grateful for the ongoing support of the Compassion Whānau.
Kia whakapaingia koutou e Meri Hōhepa. May you be blessed by Suzanne Aubert.