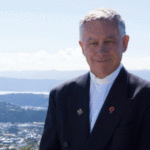 WelCom March 2023
+ John A Cardinal Dew
Archbishop of Wellington Archdiocese
Apostolic Administrator of Palmerston North Diocese
On 24 January this year, which is the Feast of St Francis de Sales, and in memory of this saint who is the patron saint of journalists and communicators, Pope Francis released the Message for the 57th World Day of Social Communications. The theme of the Pope's message for this year is wonderful. It is: Speak from the heart. 'Living the truth in love' (Eph 4:15).
World Communications Day is not celebrated until 21 May this year. I am writing about the Pope's message is this March column, because his message is clearly not just for those involved in the world of the media, or of social media communications. It is for all of us. We all communicate in so many ways every day.
Pope Francis is calling for more 'heart' in our communications. He tells us everyone has the responsibility to communicate with an open heart. When we think of the evil, unfair and often untrue ways many media sources communicate today – or we might do so ourselves, then we see how necessary it is for all of us to 'speak the truth in love'. It is easy to think of how some social media platforms can be misused, such as Facebook, Instagram, TikTok, Snapchat and so on.
Imagine if we started all our communications, whether it be an email, a simple phone call, our presence at a meeting, around the dining room table, a hasty throw away comment, a serious conversation – imagine if we did this intentionally 'speaking the truth in love'. Imagine how it would be if our goal was to help others through our communications to be 'caressed by the mercy of God' – our world would be a better place.
Pope Francis tells us everyone has the responsibility to communicate with an open heart.
In a talk he gave in Argentina before he became Pope, Francis said, 'we cannot understand the dynamic of encounter, which brings forth wonder and adherence if it has not been triggered – forgive me for the use of this word – by mercy. Only someone who has encountered mercy, who has been caressed by the tenderness of mercy, is happy and comfortable with the Lord.'
Pope Francis believes we all have the opportunity to help whoever we are talking to or communicating with, in some way we are able to help them encounter the mercy and kindness of God.
Be who you are and be that well.

St Francis de Sales (1567–1622)
We are reminded, therefore, in this Message, that everyone has the responsibility to speak with an open heart. The message is not just for those who work in communications, it is for all of us. He also shares some words about the importance of discernment. I read an article recently about someone who was interviewing him. The person said you could ask him a question, and he could well spend up to 10 minutes in total silence while he prayed and discerned the answer to the question. That's why he tells us 'it is only by listening and speaking with a pure heart, that we can see beyond appearances and overcome the vague din in our world which does not help us to discern in the complicated world in which we live'.
There is a wonderful paragraph in the Message which reads, 'communicating, in a cordial manner, means that those who read, or listen to us, are led to welcome our participation in the joys, fears, hopes, and suffering of the men and women of our time'. Those words very clearly reflect the first words the Second Vatican Council document Gaudium et Spes, which says: 'The joys and the hopes, the griefs and the anxieties of the men of this age, especially those who are poor or in any way afflicted, these are the joys and hopes, the griefs and anxieties of the followers of Christ.' (GeS 1). The challenge for us is to always try to speak 'in a cordial manner'.
The Pope praises St Francis de Sales and speaking of how he offered communicators (all of us) a worthwhile example, he writes: 'His meek attitude, humanity, and willingness to dialogue patiently with everyone, especially with those who disagreed with him, make him an extraordinary witness of Gods, merciful love'. Do we think of our various ways of communicating as being 'an extraordinary witness of God's merciful love'?
The theme of this Message invites everyone not to 'fear to state at time uncomfortable truth that finds its foundations in the Gospel'. The theme offers the importance of non-hostile, communication and promotes 'communication open to dialogue with the other'. Everyone working in the field of communications is called upon to see their profession 'as a mission for building a more just, more fraternal and more human future'. That is the mission for the media. That's the mission for every one of us, to build a more just, more fraternal and more human future. We do that when we 'speak from the heart, and live the truth in love'.
---
St Francis de Sales (1567-1622). Shortly after his ordination to the Catholic priesthood in 1593, he began dangerous work in the Chablais region, attempting to reintroduce the Catholic religion in the midst of the Protestant Reformation. He developed a great reputation as a writer, preacher, and debater in defense of the Catholic faith. He is the official patron for authors and journalists. He also is patron saint of the deaf because he developed a method for teaching a young deaf person the catechism.