WelCom November 2019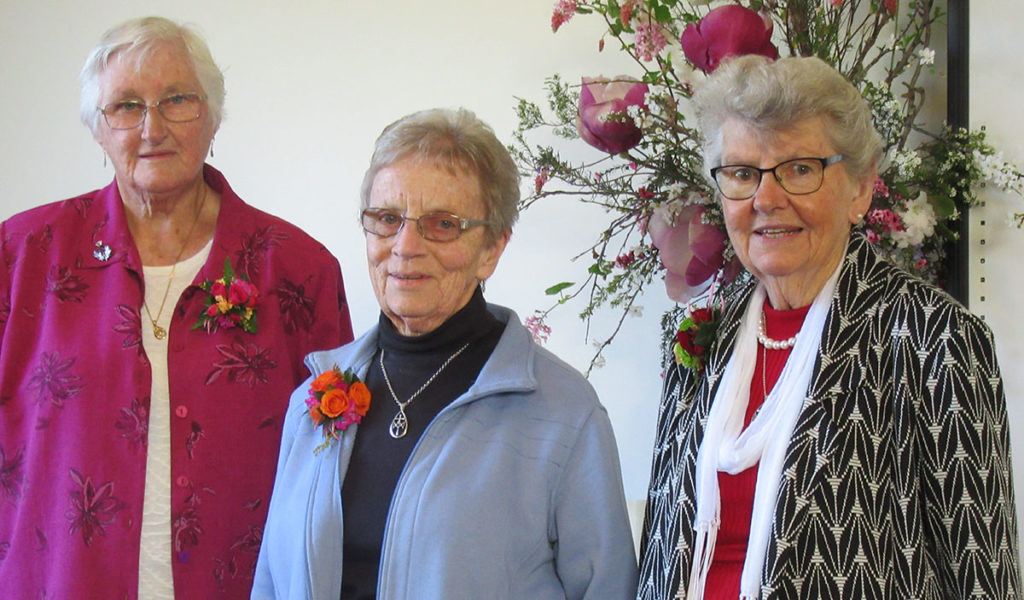 Sue Seconi
Friends, family and Sisters gathered with Josephite Sisters Therese McConway rsj from Wellington and Helen Doyle rsj and Marcienne Waite rsj from Whanganui, to mark their 60 years of Religious Profession. The Spring Time Celebration of Diamond Jubilee Liturgy was held at Mt St Joseph in Whanganui on Saturday 31 August followed by afternoon tea.
After their final profession in 1959, the trio taught for many years then moved into other ministries still expressing the charisms of their founders Fr Julian Tenison Woods and St Mary Mackillop.
After training as a medical social worker in New York, Sr Helen rsj worked at Waikato Hospital. She returned to Whanganui in 1998 to become manager of the Quinlan Court complex. Actively retired she now assists with the Congregation's archives, is a hospice volunteer and is Whanganui's representative on the National Alzheimer's Executive.
Sr Marcienne rsj was a missionary in Papua New Guinea for four years. Returning to Whanganui she became co-ordinator of the Josophia Craft Centre. She has recently retired after 25 years being involved in Faith & Light in New Zealand and the Southern
Cross Zone.
Sr Therese rsj became part of the Motor Ministry working in Adult Education and CCD in the Buller, Grey and Westland Districts and Tokoroa, workplace chaplaincy in Wellington for 19 years. She then promoted Mary MacKillop's life in Inverness-shire, Scotland, prior to St Mary's canonisation. Sr Therese is retired to Maoribank in Upper Hutt.