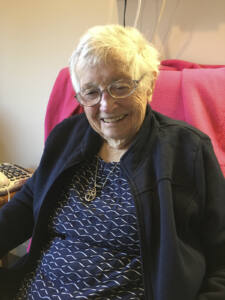 WelCom December 2022
Anne Burke rsj
On 19 December 2022 Sister Francesca Bourke rsj, of the Sisters of St Joseph of the Sacred Heart will be celebrating her 100th birthday in Whanganui. Family, Sisters and friends will be gathering with her to reminisce and be thankful for her long life.
Francesca hails from Irish parents and grew up on a farm in Taranaki. With her sisters she became a boarder at Sacred Heart College in Whanganui and entered the Congregation there in 1940. She taught in Catholic primary schools in Whanganui, Hastings and Feilding, as well as at Sacred Heart College in Whanganui.
From 1960 onwards, Francesca led the community at Sacred Heart, and from 1971 to 1981 was Congregational Leader of the Sisters of St Joseph of Nazareth in Whanganui. As she noted, 'that time provided me with many challenges and varied experiences, including involvement in the Australia-New Zealand Federation of the Sisters of St Joseph from its earliest years.'
After her years of leadership Francesca moved to Central Hawke's Bay where she was involved in parish pastoral work. Later came hospital and prison visitation, and involvement in the Faith and Light community.
In 1998 Francesca was one of the original residents of Quinlan Court in Whanganui – a retirement complex for independent living. Francesca loved her time there as she lived with men and women from all walks of life 'growing old gratefully and gracefully'.
An interest in art developed into numerous paintings over the years and many were used in her ministries.
Francesca is now a resident in a Whanganui Rest Home where she enjoys visitors, and despite failing eyesight and hearing, she remains interested and eager to be part of the world around her.