Schools
Billie Jarman-Bridges
6 November 2012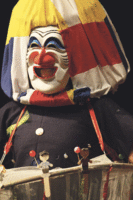 Winner of the Masked Mayhem category, right.

Wednesday September 12 brought great excitement, anxiety and nervousness to the Intermediate girls of Ss Peter and Paul School, Lower Hutt. It was the day of their World of Wearable Arts Extravaganza!
The preparation for this event had been going on for weeks, over a month for some people.
On August 22 and 23, we had two construction days to start and, in some cases, finish our designs. The classrooms were tidy at the beginning and end of each day, but in between those times they were a mess! Pieces of fabric, sticks, feathers and many other things almost everywhere being used in ways they've never been used before.
We also had to write a description about the design, weaving a story in and out of the lines. There were three categories- Absolutely Aotearoa, Masked Mayhem and Trash to Treasure.
Every category had between 10 and 20 entries, and each one of them had some fabulous creations. In between categories, there were some brilliant performers.
Ballet, Jazz, singing, roller-skating, they had it all!
Every student in the Intermediate area had some part in the show: designer, speaker, performer, model or host. Everybody had the chance to be involved.
Our extravaganza was performed in front of a full house of family and friends at the 'Little Theatre' in Lower Hutt.
Despite the nerves and anxiety we realised that we had learnt how to manage our stress and rise to the occasion. Between the amazing acts, and of course, the costumes, it was definitely a show you wouldn't want to miss!
Billie Jarman-Bridges is a student at Ss Peter and Paul School, Lower Hutt.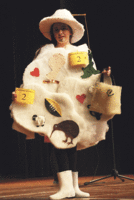 Tia Willis modelling her entry in the Absolutely Aotearoa category. She designed it with the help of Jessica McGough.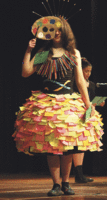 Erin Wildman modelling her work of art which she designed with Emma Donnelly.