Columns
Msgr John Broadbent
December 2012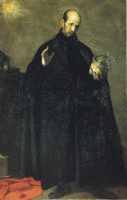 November's entry to our series on the popes touched on the brief history of one of the most infamous of our popes, Alexander VI, and his uncle, Calixtus III, who gave the Borgias a bad name in church history.
But Alexander VI was the great-grandfather of this month's saint, showing that God can always, if He so wills, bring good out of evil.
One of Alexander VI's sons, John, was murdered, possibly by his brother Cardinal Caesar Borgia. He had been Duke of Gandia and his son, Juan, succeeded as duke and married Eleanor, an illegitimate daughter of King Alfonso V of Aragon.
From the union of the new Duke and his wife, St Francis was born in 1510.
He was related to many of the crowned heads of Europe, a great grandson of a pope, a nephew of Catherine of Aragon (Henry VIII's first wife), and a cousin of the Emperor Charles V and Queen Mary I of England.
Aged 18, and after finishing his formal education, Francis was received at the Imperial Court.
At this time there occurred an incident whose significance was only seen later.
At Alcala he was impressed with St Ignatius of Loyola, who was to found the Jesuits but had been arrested by the Inquisition.
Little did Francis think he was to later succeed Loyola as Superior General of the Jesuits.
Emperor Charles V, also king of Spain, made Francis the Viceroy of Catalonia.
Francis afterwards said it was his experience of politics there that prepared him to lead the Jesuits. 'I then learned to decide important questions, to settle rival claims, to see both sides of an affair, in a way I could not otherwise have done.'
A devout man
But despite all this glory, what sort of a man was he?
He was first a good father to his eight children and at the death of his wife, Eleanor de Castro Melo e Menezes, the youngest was only eight.
He succeeded to the title of Duke of Gandia and often shocked many devout Catholics because he went to communion at almost every mass he attended in an age when frequent communion was thought to be presumptuous for a layman.
The widower pined for the religious life. St Ignatius Loyola received his request to be a Jesuit with great joy, but reminded him he had to see his children settled. In the meantime, he kept his resolve secret and studied for a doctorate of theology at the University of Gandia.
A year later he was permitted by St Ignatius to make his profession privately. Three years later, after settling all his children, he joined St Ignatius in Rome. He was 40 years old.
After four months in Rome, he lived as a hermit near Loyola, as St Ignatius had at Manresa. He received the emperor's permission to give all his titles and estates to his son Charles.
He shaved his head and beard and was ordained priest in 1551.
Humble beginnings
'A duke turned Jesuit' was the sensation of the Catholic world. But his superiors saw to it that he was kept humble.
For a time, he served the cook in the kitchen, fetched water and carried wood. He made the fire and swept the kitchen, and when he waited at the table he had to kneel to beg pardon of the fathers and brothers since he was so clumsy. His superior treated him with severity; but he was allowed to preach and became very popular.
He became a friend Theresa of Avila, and was her confessor. Francis was no friend of the Inquisition, although King Philip II ignored the jealousies of their complaints.He was the superior in Portugal before being summoned to Rome to assist Father Laynez, St Ignatious' successor as Superior General in 1561.
St Charles Borromeo and Cardinal Ghislieri (later Pope St Pius V), were among the many who came to his sermons.
Leading the Jesuits
When Father Laynez died in 1565, Francis was elected Superior General of the Jesuits.
As he streamlined many of the processes of the Loyola and Laynez, Francis was often called the Jesuit's 'Second Founder'. He put the famous Gregorian University in Rome on its feet: he had subscribed to this charity as a layman.
Following the recommendation of the Council of Trent, Francis helped to start the first seminary for diocesan priests. He encouraged the Jesuits in China and India in their efforts to adapt the culture to the church.
His humility became greater as the years went by.
During the illness before his death, in Rome in 1572, the future saint blessed all his children and grandchildren. He once told his novices that in prayer he often placed himself at the feet of Judas the traitor and when he realised our Lord had washed Judas's feet, he felt unworthy to do even that.
St Francis Borgia was canonised in 1671 and his feast day is September 30.
From February, 2013, Mgr John will start a series looking at pioneers in the faith in New Zealand: bishops, priests, religious and lay people. This series will follow entries on Father Francis Vernon Douglas introduced by Father Michael Gormly, and Father Emmet McHardy, by Father Noel Delaney.
Image: Alonzo Cano's 1624 painting of Saint Francis Borgia is held by Seville's Museum of Fine Arts.