WelCom March 2021
John Holden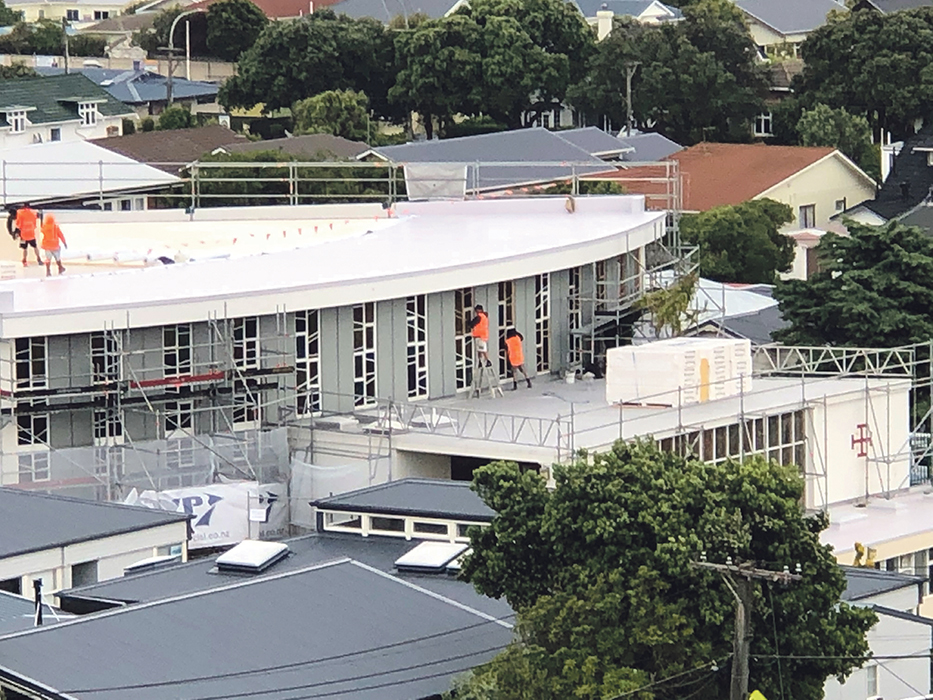 Wellington's sunny summer has enabled good progress to be made on the installation of a new roof and exterior repainting of the 'heritage listed' St Francis de Sales Church in the Catholic Parish of Wellington South. Scaffolding requirements have meant that maintenance to the church's 'beacon of hope' bell tower and distinctive bells could also be completed.
The refurbishment project has been in the planning for several years and following archdiocesan confirmation was able to be scheduled to be completed over the summer months of 2020–2021.
The church in Island Bay has a 'significant' heritage listing with the Wellington City Council, due to its striking mosaic of Christ on the cross made from 135,000 pieces of ceramic glass, special plastic tiles and innovative coloured window featuring the patron saint, St Francis de Sales. Designed and constructed in the 1960s, Jason King from the firm King and Dawson was the architect.
The church's foundation stone was blessed in 1965 by Archbishop Peter McKeefry and then parish priest Fr Darcy Reader SM. The church interior design is fan-shaped towards a central altar made of Italian black marble, as are the two side altars. The exterior building material is ferro concrete – an innovative construction choice at the time of its build.
The church has also had a new heating and fresh lighting system installed and is expected to re-open in April 2021.