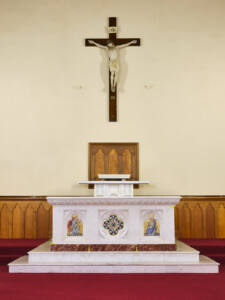 WelCom August 2023
The altar from St Gerard's Church in Wellington has been given a new home at the city's Catholic Sacred Heart Cathedral.
St Gerard's – a distinctive, category one, heritage-listed church and monastery building – was sold in March this year.
Since the sale, St Gerard's former owner, the Institute for World Evangelisation (ICPE Mission), has been finding new homes for the monastery's chattels.
The ICPE has been careful in re-homing sacred items, many of which have historical value to the Archdiocese of Wellington.
ICPE is donating the altar from the main church to the Cathedral of the Sacred Heart – currently closed for renovation and earthquake-strengthening.
Archbishop of Wellington Paul Martin sm is delighted with the donation.
'I am personally excited a cherished part of St Gerard's history – and of the Catholic history of Wellington – will live on within our cathedral, which is home to all the people of God in the archdiocese,' he says.
St Gerard's Church (built 1908) and Monastery (built 1932) were originally owned by the Redemptorists. The Catholic religious congregation of priests and brothers sold the property to the ICPE Mission in 1993.
The Mission, which is an international Catholic lay missionary organisation, sold St Gerard's because it could not raise the money needed for strengthening the buildings to NBS standards.
The altar will be moved from St Gerard's to the cathedral site as part of the Cathedral's restoration project.