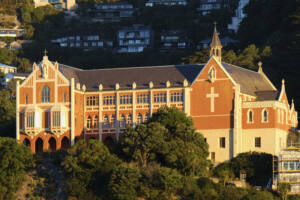 WelCom November 2022
St Gerard's, the former Redemptorist church and monastery and Wellington's most imposing landscape building is likely to be sold, reports Wellington's DomPost.
A Wellington developer Richard Burrell, who has a reputation for restoring heritage buildings, is the likely purchaser. Should he be successful, Burrell intends to turn the building into a hotel.
Pending due diligence into what is needed to strengthen the building against earthquakes, it is understood the sale price is about $5m.
Currently, the buildings are 25 per cent cent of the New Zealand building standard, and fall well below the 34 per cent earthquake risk threshold.
Burrell estimates around $20m for steel and concrete is needed to spend on the building. The building's rateable value is $16.9 million, of which $16.4m is in the value of the 2433m² of prime land it sits on.
Following City Council rates increases and fewer priests, in 1988, the Redemptorists sold the church and monastery at a discounted rate to the International Catholic Programme of Evangelisation (ICPE). ICPE tried to raise $11m for earthquake strengthening but came up well short.
The historic church was closed after a final Mass on Pentecost Sunday, 23 May 2021, celebrated by Cardinal John Dew.
St Gerard's is a Heritage NZ category one heritage-listed building.
Lambton Ward Wellington City councillor Nicola Young, whose father donated a baptismal font to the church in the 1960s, was 'thrilled' to hear the building may get a second life.
'It's probably Wellington's most distinctive building. As soon as you see it you know it is Wellington,' she said.