WelCom September 2020
Andrew Austin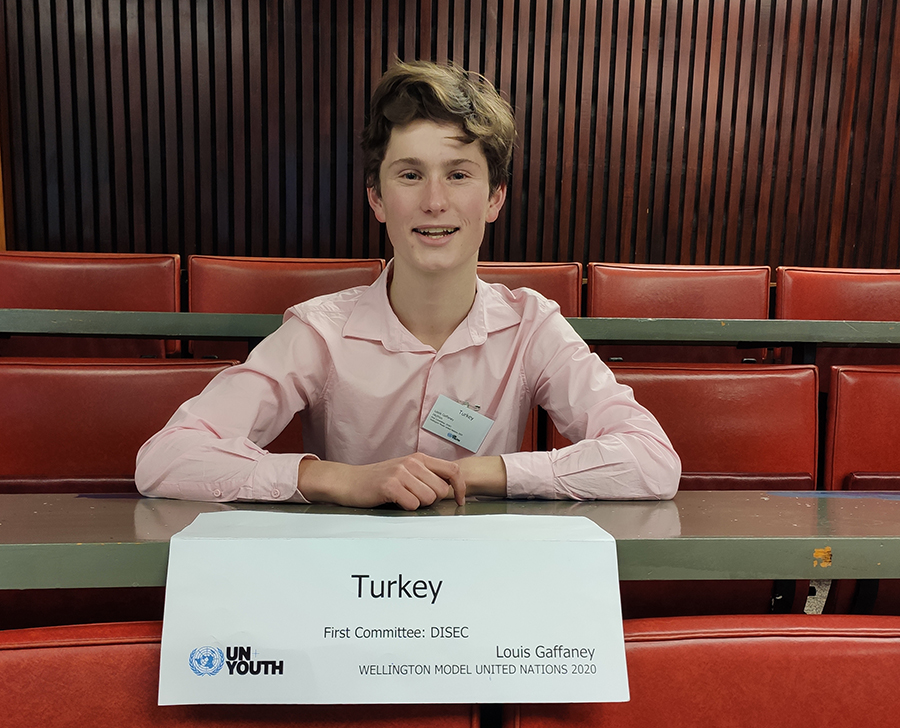 Year-12 St John's College student Louis Gaffaney, was selected to take part in the New Zealand Model UN 2020 conference at Victoria University, Wellington, 27–30 August. Students from around the country apply for selection.
Louis, 17, a lead speaker on his school's debating team, participated in the regional model UN conference in Wellington in July, organised by Wellington UN Youth. Each student is assigned to represent a country and Louis represented Turkey. His success led to him being chosen to attend the national conference.
The larger-scale, four-day NZMUN conference offers students the chance to experience life as a diplomat. Between engaging problem-solving workshops to simulated committee sessions, students are given a platform to discuss important topics relevant to global affairs.
'As a representative of the country you are given, you put forward a resolution you discuss and debate among the other countries in your select committee, including things you want to change in law to suit your country. You have to be objective by not expressing your own opinions but those of the country.'
In preparation, Louis researched the social, political, economic and cultural context about his assigned country, to engage in informed decision-making at the Assembly. Louis said the national conference has specialised people educating participants throughout each day on the ins and outs of the UN.
Louis sees the conference as a stepping stone for future careers in diplomacy and politics. 'I'm keen to study economics and law at Uni as a double degree and maybe a Master's degree in international relations and diplomacy. I would love to be a diplomat for New Zealand and hopefully one day work my way into politics.'