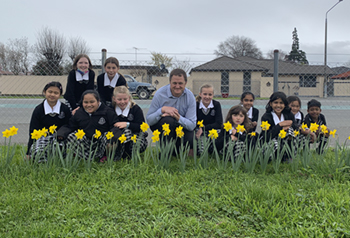 WelCom October 2022
Nigel Mitchell
St Mary's School of Blenheim is sad to announce that Paddy Dowling, our dedicated principal over the last six years is following his family to Christchurch as high school beckons next year for his growing children. Paddy has been instrumental in the reinvigoration of our learning environment and the driving force behind so many of the changes you now see around our school. He introduced the 'learning through play' system for our juniors and the student leadership programme for the seniors as well as changing the colour scheme of our uniform and buildings.
Paddy's infectious laugh and boisterous personality will be greatly missed by the younger children and the year eights have lost the benefits of an adventurous spirit that encourages them to strive and achieve success in challenging situations. He may be flying down south for a while but after a brief hiatus he plans to return to Blenheim as he considers it the best place in New Zealand to have a family's roots grounded.
Working alongside a cohort of old boys, Paddy has helped to plan next year's St Mary's School 150th year jubilee celebrations starting on 30 June 2023. The weekend long event will include a multicultural celebration on the Friday, an open day at the school on the Saturday followed by an evening meal and gathering, Sunday Mass and the opening of the Freeth Whānau Room. Details are available on our Facebook page. Visitors to this extravaganza will witness the multitude of projects Paddy has taken on, such as renovation of the Little Theatre, new junior playground and cherry blossoms planted around the fence line. They are strong examples of his legacy at the time of his departure.
We wish Paddy all the best with his future endeavours. We are now seeking another superhero to fill the huge shoes Paddy has left behind. If this sounds like someone you know please have them contact chairperson@stmb.school.nz for an application pack.
Nigel Mitchell, presiding member of St Mary's School Board of Trustees.