WelCom October 2020
Kiwiana
Orla Moss

Kia Ora! We are Kiwiana, a group of Year 12 students at St Mary's College taking part in the Young Enterprise Scheme. This scheme has allowed us to set up and run a real business and bring our product, which we have designed and are passionate about, to market.
Through research and surveys, we have discovered that many New Zealanders don't know enough about our wonderful home, Aotearoa, and there is a real knowledge gap. For example, less than a third of New Zealanders know when the Treaty of Waitangi – Te Tiriti o Waitangi – was signed!
We have created a board game to educate people about New Zealand in an interactive and enjoyable way. Our game, Kiwiana, is a combination of Snakes and Ladders and Trivial Pursuit but with a distinctly New Zealand twist. There are four categories of questions: history, sport, culture and nature.
We believe the younger generation in particular should be more knowledgeable about Aotearoa as they are the future of our country, which is why our game is aimed at primary school-aged children and their families. However, Kiwiana is a game suitable for all ages. Our entertaining and inclusive game helps fulfil our vision, 'To help New Zealand children to feel proud and knowledgeable about the foundations of Aotearoa'.
Our mission is to help this occur throughout New Zealand. We are a Social Enterprise and so we will donate all our profits to 'Belong Aotearoa', an organisation that works with immigrants and refugees to help them feel more at home in New Zealand.
Continue to be a part of our journey! Contact us through our email: stmwkiwiana@gmail.com or website: kiwiana.mystorbie.com or follow us on our social media, Kiwiana Board-Game on Facebook or Instagram, @kiwiana.board.game
---
Up in the Clouds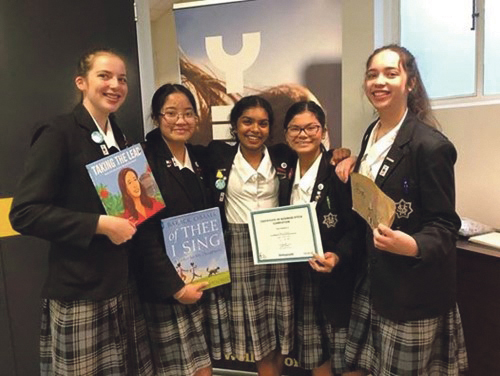 Jennifer Connolly

Our innovative group of Year 12 students is on a mission to encourage children to dream big for the future! Our Enterprise Scheme, 'Up in the Clouds' is selling environmentally-friendly ballpoint pens to raise funds to purchase inspirational books for disadvantaged children in the Hutt Valley and Wellington.
The pens are inscribed with inspirational words, such as 'to be a creator', 'to be a leader', and 'to be an adventurer', to represent and encourage dreams among young children. Some pens have been left blank for children to write their own dreams on! The pens are packaged sustainably with recycled kraft paper decorated inside with children's drawings about dreams.
Profits made from sales of the pens will be used to provide young children with books, such as 'Taking the Lead' by David Hill, a new book about Jacinda Ardern, as well as other books from the series including 'Hero of the Sea' a book about Sir Peter Blake.
'We thought about what inspired us, and that's the tale of someone else's success! So we hope to inspire all children to dream big!' says Marisa Raymond, Up in the Clouds CEO.
For enquiries or if you'd like to place an order for the pens please email: up.in.the.clouds.nonprofit@gmail.com or go to: https://up-in-the-clouds.mystorbie.com/?mode=live