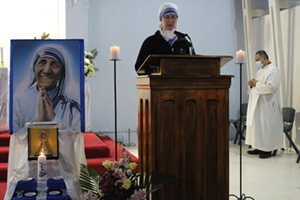 WelCom October 2022
Annette Scullion
Parishioners, whānau and friends gathered at Holy Family Church in Porirua to support the Sisters from the Missionaries of Charity and the Community of the Missionaries to celebrate the feast of St Mother Teresa of Kolkata at Mass on 3 September.
The Sisters from the Missionaries of Charity live among the parish community offering guidance and support to those in need. In honour of their foundress' feast day, the altar was decorated with beautiful flowers, candles and a large portrait of St Mother Teresa of Kolkata.
Among the celebrants were the Apostolic Nunciature of the Holy See in New Zealand His Excellency Archbishop Novatus Rugambwa, the new deputy head of the Apostolic Nunciature Fr Giosuè Busti, the parish priest Fr Andrew Atonio and other supporting priests.
Archbishop Novatus Rugambwa thanked everyone for their presence, particularly the four Missionaries of Charity, the Missionaries of the Faith and the whole parish community.
'This is a very important feast in the Church because we are able to thank God for His goodness manifested in the life and service of Mother Teresa and of all the Missionaries of Charity – both the living and the dead,' he said.
Archbishop Novatus went on to say, 'In St Mother Teresa, God gave to the Church and to humanity an example of how our life can be an expression of divine love manifested in Jesus Christ. Mother Teresa could honestly say, "I see Christ in every human being. When I wash the leper's wounds, I am nursing the Lord himself."
'In this way, Mother Teresa always encourages us to serve others with respect, love and devotion because "whatever we do, we do it for God and to Christ; which is why everything must be done as beautifully as possible." We cannot say we love God while ignoring the needy because such a love would be a fraud, a self-deceit and indeed a way to camouflage or disguise our selfishness. May the Congregation of the Missionaries of Charity in New Zealand and all over the world continue to satiate Jesus' thirst for souls by continuing to labour for salvation and sanctification of the poor.'
The celebrations continued with lunch in the adjacent parish hall and the cutting of a cake by Archbishop Novatus, Fr Andrew Atonio, and Sr Oliva.