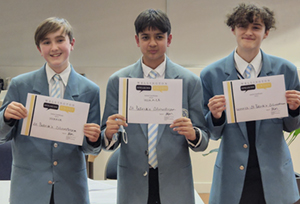 WelCom October 2022
Congratulations to St Patrick's College Silverstream's Junior Certificate 2 debating team members Caleb Malskaitis, Gyananjan Ahluwalia, Joseph (Joey) Moorman, and Blake Simcock who won their grade in the finals of the Wellington Speaking Union competition. The team was coached by Ms Maddie Van Woerkom.
Out of over 50 schools taking part, the final debate against Kāpiti College debating team 2 was held at Victoria University on 31 August. St Patrick's Junior team was affirming. The moot was that major social issues should be decided by referenda, rather than Parliament, for example becoming a republic, lowering the voting age, legalising drugs.
The college's head of debate was at the finals and said he has been at the school over 20 years and they had never won. It was also the first time the team had debated in person instead of online due to Covid restrictions and the team being 9th graders.