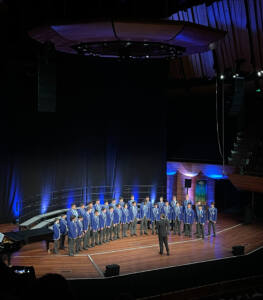 WelCom June/July 2023
Noah Jefferson, Year 13 student
The annual Big Sing Regional festival is always a highlight for our St Patrick's College, Kilbirnie, choir 'Con Anima'. This year the overall standard of the other college choirs in attendance was the best we had seen in some time.
Held on Thursday 8 June at the Michael Fowler Centre in Wellington, the day as a whole was super enjoyable for all members of our choir, especially after we had performed our set in the afternoon competitive session. We were the last choir out of the 32 choirs in the Wellington region to compete and the overall feedback was that we ended the session on a high note!
After Thursday night's Gala Concert, Con Anima was presented with the Festival Cup. This award is presented to a choir 'which best represents the Spirit of the Festival through its performance, behaviour and attitude'. It was a tremendous honour to be presented with this cup and now our focus turns to 26 June, when choirs who have qualified for the Big Sing National Finale will be announced.
This experience would not have been possible without the tremendous support of our musical director, Mr Roger Powdrell, whose hard work and dedication often go unnoticed by many. There are few directors who dedicate themselves to excellence like Mr Powdrell, and we thank him for pushing us to be better, and to sing 'with spirit'.
The Big Sing Finale 2023 will take place at Auckland Town Hall from Friday 25 to Sunday 27 August.