WelCom October 2021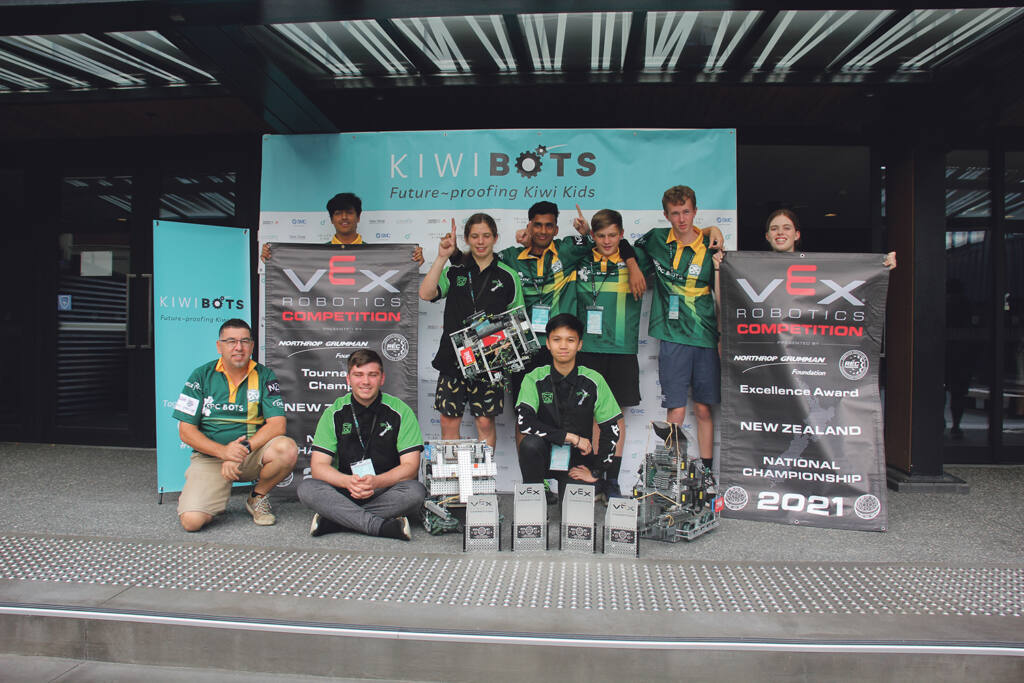 Students from St Peter's College, Palmerston North, have again proved they are robotic champions. The school's Evaristus team won the 2021 high school excellence award and the tournament championship at the national VEX Robotics championships in Christchurch in June, earning the team an invitation to the VEX world championships. Team Apollo was a national finalist and won the Innovate Award. Team Callixtus won the VEX IQ Nationals Think Award.
VEX Robotics is a robotics program for primary through university students. The VEX Robotics Competition and the VEX IQ Challenge, where students can compete with and against each other, is the largest robotics competition in the world.
St Peter's students have been competing with robots since 2009, winning national and international awards. Stephan van Haren, teacher in charge of digital technology, physics and robotics, says the foundations for these successes are based upon Catholic values that the students live out in these competitions. 'There is a great emphasis on service, respect, community, stewardship, integrity and curiosity, wonder and awe,' he says.
'The students learn to design, build and program their robots in teams in the months leading up to the competitions. Robots are built with metal or plastic beams, powered by smart motors connected to the robot brain, programmed by the students to respond to the remote controller in the hands of the team driver.
'Students experience success at every level of the process, from constructing a robot, to scoring their first points, first win of match or competition and helping others improve their robots. Industry specialists and parents alike are blown away by what these students have accomplished.'
The beauty of these competitions is that students are fully engaged in their STEM-related learning [science, technology, engineering, mathematics] while developing their communication and collaboration skills, in an encouraging atmosphere, says Stephan.
'They are just as keen to help other teams and loan robot kits to help other schools. And our girls in the robotics team have organised GirlPowered STEM workshops to encourage girls to explore STEM careers.
'St Peter's students who have finished high school and university are still involved as volunteers who run the events, living out their service and community values.'