I've recently completed the priests' annual retreat. That is, five days of peace and quiet, with a good presenter. We get quiet nights with no disturbances and peaceful days in great surroundings. The priests also have the chance of meeting friends from seminary days. Priests could be found in small groups reliving old times especially in the evenings, some recalling a time when there was a parish at Ohura and three priests resident in Stratford! The two dioceses are combined for the retreat so there is much merry-making and remembering.
We have the opportunity for reconciliation and, of course, there is daily Mass. This year Fr Justin Taylor SM was the presider. The bishops and priests are all preachers themselves and have read plenty of books so he has to know what he's on about! Fortunately Fr Justin meets all requirements and then some. The book he was presenting was the Acts of the Apostles which he clearly knew and loved.
On the first day I think he explained four verses and everyone was totally engaged! Over the whole week he covered a chapter or two but it was the depth of his knowledge and his realistic connection with events in the present that inspired us.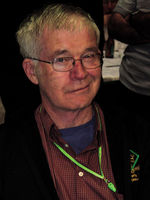 As he was finishing he would leave aside any notes, steeple his fingers and say something about the present day and he has seen plenty. While he is a real expert from the heart of it all in Jerusalem, he gets to speak to many different groups around the world and has plenty to reflect on. We can sometimes think that our problems are universal but when we meet someone who gets around like this it helps make more balanced decisions.
For myself it is the first retreat that I have made for some years. I must admit that I approached it fairly tentatively. I have great difficulty in concentrating and very little short-term memory. Both of these are required quite extensively on a retreat. I can remember, to some extent, what it was like to have these gifts, but now I haven't got them. I suspect I'm not on my own in this, and it gives me pause for thought in putting together a liturgy, for example.
Walking, too, was an important part of retreats as I used to make them. To be able to walk, think and pray were mightily important. Now I can't really walk, and thinking and praying are very different for me now so the long pauses in the day were no longer the useful breaks they used to be.
I'm not complaining, however—what I'm doing, I hope, is explaining a new reality which might be of use to others who have the same complaint and may be thinking that a retreat is beyond them.
I'm going to take several different kinds of books with me including books for when my attention span is very brief. I'll take my iPod with me for my favourite music. I have a little car that is set up for me to drive and I'll make sure that I have that with me so that I can get about.
I have to be very patient with myself. I want to organise things liturgically but I can't. I'd love to join in the conversations but, with memory loss, attempts to say things don't work. However, the good outweighs the bad and maybe a little bit of silence never hurt!
The chance to hear a good presenter like Fr Justin Taylor was too good to pass up.