A parent's quest for something to amuse her four-year-old has led to a fellowship in Washington DC for a St Mary's College student.
Anne Kim has been selected to participate in the Kennedy Center/National Symphony Orchestra National Trustees' Summer Music Institute next month (July).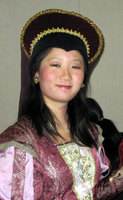 At the summer school she will have violin lessons with a musician from the orchestra, and be able to join in master classes, seminars and performances on the Kennedy Center's millennium stage.
Anne says she started violin because her mother wanted something for her four-year-old daughter to do during the weekends. She learnt by the Suzuki method which was specially developed for young children.
She has played in a number of instrumental ensembles and has played for the last three years in the National Youth Orchestra.
Anne was also recently awarded a prize for the best Shakespearean comedy actress at the Sheilah Winn Festival for her portrayal of the character of Portia in The Merchant of Venice.
This was a huge surprise for her because before this year she did not know she could act. But she heard about the festival and thought she'd 'give it a go' and landed the part.
Her approach to the portrayal of Portia was influenced by traits she'd noticed in her own personality particularly in her relationships with others. Her music teacher had once told her that she did not 'suffer fools gladly'.
She played the role in a low-key way which seemed to appeal to the judges. One of her teachers, Claire Blacklock, said Anne's cool demeanour in the part was very funny and she was not at all surprised that she had won.
She said Anne is very humble and her teachers did not know about her fellowship until receiving notification from the music institute.
The picture shows Anne Kim as Portia (Merchant of Venice) in the Sheilah Winn Shakespeare Festival.