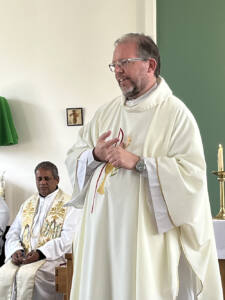 WelCom August 2023
Fr Trung Nguyen
Visiting Super General of the Rosminians was full of praise when he made his recent visitation from Rome to the Rosminian community in Palmerston North.
Fr Marco Tanghetti IC, accompanied by the Rosminian Provincial in India, Fr Francis Menacherry IC, celebrated Sunday Masses in Ashhurst, Feilding and at St Mary's Church in Palmerston North, and met with members of the Syro Malabar community. Fr Marco was struck by the variety of ethnic groups present in the parishes and the joyful participation in the liturgies.
While visiting the diocesan centre, Fr Marco shared his appreciation for how the priests of the diocese and the diocesan staff have supported and guided the young Rosminians serving in the diocese.
The Rosminians, officially named the Institute of Charity (IC), are a Catholic clerical religious congregation founded by Antonio Rosmini and first organised in 1828. The order was formally approved by the Holy See in 1838. Its charism is 'Universal Charity' and its members are commonly called Fathers of Charity.
Fr Marco said, 'I know it is not always easy to serve in another culture. I myself was a missionary in Venezuela for 12 years. Here, I know that Fr Robin Kurion and Fr Manoj Mathew benefitted greatly from the cohesive spirit among the presbyterate as well as the encouragement of diocesan staff. They learned much about leadership and collaborative ministry as well as the importance of school visits. I am hoping our two new community members Fr Ambrose Maliakkal and Fr Vijoy Jacob will enjoy and benefit from the same support.
As well as visiting Palmerston North, Fr Marco and Fr Francis visited the Cistercian Monastery of Kopua in Central Hawkes Bay, and then went on to Christchurch, Dunedin, Gore and Auckland for further visits to Rosminian communities and schools.
July was a special month of vocations awareness for the Rosminian Family. Fr Marco can be contacted on rosminiansnz@gmail.com for further information.
Fr Trung Nguyen is assistant priest with the Catholic Parish of Hastings and the vocations director for the Diocese of Palmerston North at vocations@pndiocese.org.nz.