WelCom June/July 2021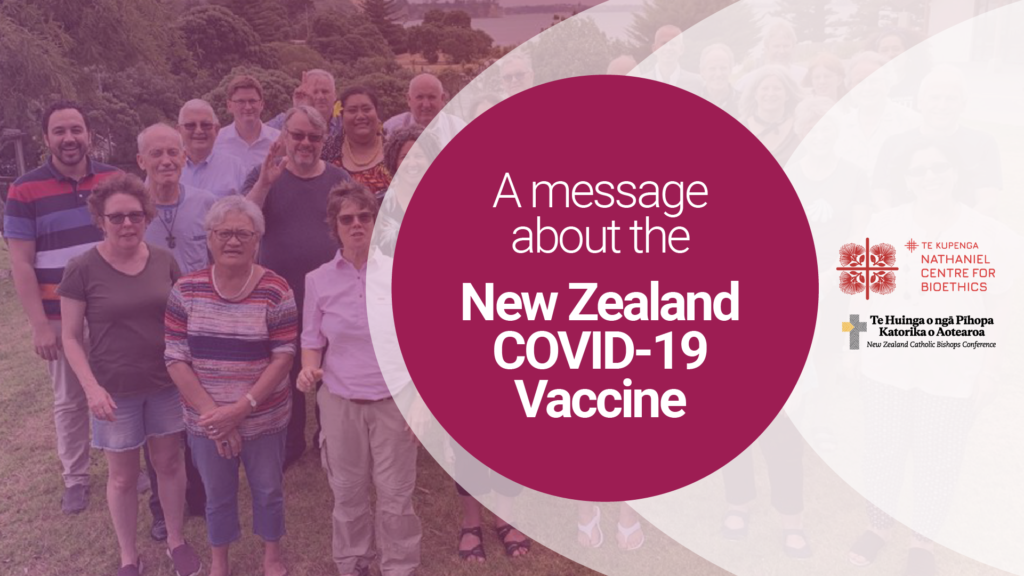 The New Zealand Catholic Bishops and the Nathaniel Centre for Bioethics have started a campaign to provide accurate information about the COVID-19 vaccine, which is being rolled out throughout Aotearoa New Zealand.
Director of the Nathaniel Centre, Dr John Kleinsman, said that the Bishops were concerned about the amount of misinformation circulating about the COVID-19 vaccine. Staff of the Nathaniel Centre have researched the issue closely for the past five months in consultation with colleagues in the fields of medicine and pharmacology.
'The Bishops support of the vaccination programme is based on up-to-date science, which includes the ongoing and extensive monitoring of the safety and efficacy of the Pfizer vaccine,' said Dr Kleinsman. 'Hundreds of millions of doses of the Pfizer vaccine have been given around the world and we know it is safe and effective.'
New Zealand, like many other countries, is taking a tiered approach to providing the COVID-19 vaccine, starting with those most at risk.
The Bishops are urging everyone who can, to be vaccinated. A key part of the Bishops' message is that getting the vaccine protects not only the person but also their whānau and the community, including and especially those who, because of underlying health conditions, cannot receive the vaccine themselves.
The Nathaniel Centre for Bioethics has produced a one-page Facts and Questions resource, which is published below, and is accurate as at May 2021.
The one-page FAQ sheet is also available in Samoan and Tongan.
More information relating to the questions is provided on a webpage, including answers to moral questions about the vaccine: www.get-vaccinated-catholic.co.nz
A short video featuring Bishop Pat Dunn of Auckland and members of various Catholic communities is also being circulated to parishes and will be made available on social media platforms.
The video is online at: tinyurl.com/Catholic-Covid-Vaccine-Message
"He ora te whakapiri: We are strong when we work together."

Bishop Pat's whakatauki from the video
Get vaccinated.
Arohaina koe ki tōu hoa tata, ānō ko koe, me whai i te rongoā āraimate.
Afai e te alofa i lou tua'oi, aua ne'i maua le fa'ama'i, ona fai lea o lou tui puipui.
E aro'a atu i to tangata tupu. Aere atu i te patia paruru.
Ofa ki ho'o kaungā'api, 'o hangē ko ho'o 'ofa kiate koe; huhu malu'i leva.
Mahalin mo ang iyong kapwa, magpabakuna.
爱你的邻居如同爱你自己一样, 请打新观疫苗
백신 접종은 이웃을 내 몸처럼 사랑하는 길입니다
Josso tum mog korta, tuzo tosso dusreacho mog kor, vaccine ghe.
अगर हम अपने पडोसियों से करते हैं प्यार तो कोविड वँक्सीन लेनेसे केसे करे इनकार
---
Love your neighbour as yourself – get vaccinated
Arohaina koe ki tōu hoa tata, āno ko koe
Support the COVID-19 vaccination programme


Following the outbreak of COVID-19 in 2020, the Pfizer vaccine is now being offered to members of the public, starting with those most at risk. The New Zealand Catholic Bishops are urging you to get vaccinated to protect yourself, your whānau and your community.
Below are the answers to some frequently asked questions about the vaccine.
1. Why should I get the vaccine?
COVID-19 is deadly for many people, especially those aged over 70 or those with existing health conditions (see the government's COVID-19 website below **).
The Pfizer vaccine has been widely tested and is at least 90 per cent efficient in protecting people from catching the virus.
Taking the vaccine also helps to protect those who are not able to have it because of other health conditions (check with your doctor if you think you fall into this group). So, do it for your whānau and your community.
2. Can I still get COVID-19 even if I get vaccinated?
Yes, it is still possible to catch the virus, though the chance of this happening is very small. But having the vaccine will mean that you become less sick.
3. I'm young and healthy, why do I need to get the vaccine?
The COVID-19 virus affects all age-groups, including young and fit adults. Young, healthy people have also died from COVID or experienced long-term serious health effects.
4. Who can get a vaccine and is it free?
The vaccine is free for everyone in New Zealand and is available to those over the age of 16, regardless of visa or citizenship status. The vaccine is still being tested for use in children.
5. When I get the vaccine, will the information I give be used for anything else?
No. Any information collected about you, such as your name and medical history, will not be used for any other purpose. This information will not be shared with Immigration New Zealand.
6. Is the vaccine safe?
Over 100 million people around the world have already received the Pfizer vaccine. The risk of getting seriously ill from the virus, or dying from it, is much higher than the risk of having an adverse reaction to the vaccine.
If you are worried, please speak with your doctor, nurse or pharmacist.
7. How does the vaccine work?
The vaccine works by teaching your body's immune system to respond quickly to the COVID-19 virus without being exposed to the virus itself.
8. What are the likely side-effects of getting the Pfizer vaccine?
Most people who have had the vaccine have not had any side-effects. The most common side-effects are minor – a sore arm, aches, a raised temperature, headache or feeling tired.
9. Will the vaccine affect my DNA?
No, the vaccine will not affect your DNA or your genes – this is biologically impossible.
10. If I have an underlying health condition or take medication, is the vaccine still safe for me?
Please speak to your doctor, nurse or pharmacist as they will be able to give you specific advice based on your situation.
11. Has anyone caught COVID-19 from having the vaccine?
No. It is not possible to catch COVID-19 from the vaccine because the vaccine does not contain any live virus.
12. Are there any religious reasons to reject being vaccinated?
All COVID-19 vaccines recognised as clinically safe and effective can be used in good conscience. Getting vaccinated is an act of charity because it protects those who, for health reasons, cannot be vaccinated themselves.
** For a list of people with underlying medical conditions and others at higher risk of severe illness from COVID-19, please visit: covid19.govt.nz
For more information about the COVID-19 vaccine please visit: www.get-vaccinated-catholic.co.nz