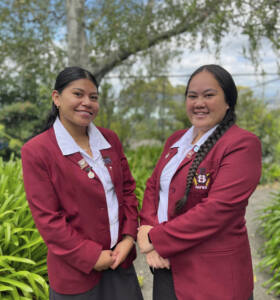 WelCom November 2022
Recognising the importance of pronouncing students' names correctly saw Napier's Sacred Heart College teachers head back to the classroom earlier this year.
The initiative, coordinated by Deputy Principal (Teaching and Learning) Rachel Read, with help from Year 13 Cultural Leaders Jacqueline Matauli and Aroha Tawhiri (Ngāpuhi, Ngāti Tūwharetoa, Ngāti Porou and Ngāti Whātua) has been very successful.
'As a school, we are aware of how important it is to pronounce the names of our ākonga correctly,' said Ms Read. 'At the end of last year, staff were surveyed on priorities for professional learning and development (PLD) for 2022. Top of the list was furthering their knowledge and understanding of Te Reo Māori. They were keen for us to run PLD sessions to focus on the pronunciation of student names.'
Ms Read says this coincided with 2022 planning with student leaders where Aroha and Jacqueline identified correct pronunciation of all student names as a priority for staff. Aroha and Jacqueline recorded themselves saying the names of all Māori and Pasifika students, as part of teacher workshops in term two.
'Staff response was incredibly positive and this resource has been helpful,' Ms Read says.
Now every student will do an audio recording of their name, uploaded to the school's student management system, so any staff member can make sure they are pronouncing each student's name correctly.
Jacqueline says it means a lot to students to know teachers acknowledge the importance of pronouncing their names and are working to improve.
Principal Maria Neville-Foster says, 'When you pronounce a student's name correctly, it can change their perception of how the school sees them, and how they see themselves. That's what we want to do for our young people.'