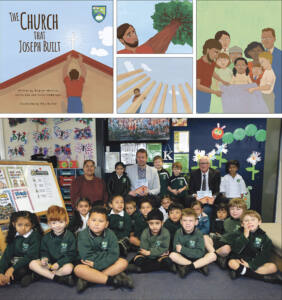 WelCom September 2022
St Joseph's School, Upper Hutt, has launched a new book created especially for the students about the history of St Joseph's church and the school as well as the local environment and the Catholic values that underpin the school community.
'The Church that Joseph Built' tells the story of how Joseph, the father of Jesus on earth, used his special talents to build St Joseph's Church, which led to the building of St Joseph's School.
'The book was developed as a creative way to share some of the key information about our kura with our new whānau,' says principal Andrew Herrick. 'The book introduces the local area of Ōrongomai with the Remutaka mountain ranges and Te Awakairangi featuring in Joseph's travel to the future school site. It then introduces the school vision and values, our Catholic social justice programme, the historic Catholic figures, which our school houses and syndicates are named after and the Charism of Mercy that shapes our special character.'
The story was developed over a six-month period. It began with the construction of the storyline by St Joseph School's senior leadership team – Selina Ede, Chris Steffensen and Andrew Herrick using feedback from the Board of Trustees and staff members to settle on the final storyline.
'Once the bones of the story had taken shape, we engaged the services of Amy Burrell to bring the story to life with her amazing illustrations. Eventually the first draft was produced for final checking before production of the finished product we have today,' says Andrew Herrick.
'The story is included with our enrolment acceptance letters for any new whānau members joining the St Joseph's community.'
Upper Hutt Mayor, Wayne Guppy, joined the staff and junior students for last month's book launch and reading. An Upper Hutt resident and a former student of St Patrick's College Silverstream, Mr Guppy said the book teaches the children how very special Catholic education is. 'The book is very easy for the children to read and understand. Being able to learn about Catholic values in the school setting sets them apart.'