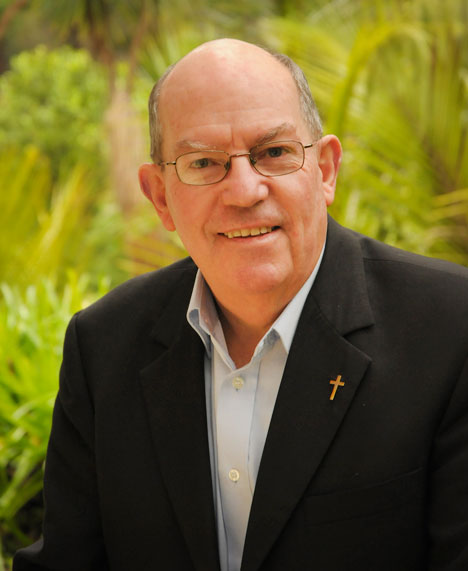 Feature

March 2014
Fr James Lyons reflects on the first year of Pope Francis' papacy.
From the moment he walked to the balcony above St Peter's Basilica and, bowing low, asked the crowd of about 100,000 that had been waiting in the Square and the millions watching around the world to pray for him, I knew I was witnessing the start of a new revolution in the Roman Catholic Church.
The unexpected election of Cardinal Jorge Mario Bergoglio on 13 March, 2013, following the equally unexpected resignation of Pope Benedict XVI on 11 February, made the then 76 year old Archbishop of Buenos Aires, Argentina, the first Pope from the Southern Hemisphere. Prompted once his election became apparent to remember the poor, he took the name Francis, after the great saint of the poor, Francis of Assisi.
His humility, shining through as he asked for prayer at the beginning of his papacy, has continued to colour his every action, capturing the heart of the world, with Time Magazine dubbing him 'The People's Pope' and naming him its 2013 Person of the Year.
Pope Francis lives simply, goes out of his way to meet people in need, has moved to ensure greater transparency in Vatican affairs and has called for a special Synod of Bishops to address pressing concerns relating to family life. All this in his first six months as leader of the world's nearly two billion Catholics, caught the imagination and admiration of people of all persuasions, instilled hope in congregations desperate for encouragement and signalled for everyone the dawning of a new day.
The excitement surrounding the first months of this papacy evoked images of Pope John XXIII, another surprise choice for the position, in 1958. Against all predictions he summoned bishops from around the world to an ecumenical council because he wanted to 'throw open the windows of the church and let in some fresh air'.
The Second Vatican Council (1962-65) did just that and, although Pope John did not live to see its conclusion (he died after the first session in 1963), he set in train an unprecedented movement for reform.
A small but significant parallel between these two Popes: on his own initiative, in response to a plea from an elderly East European bishop at Vatican II, Pope John XXIII decreed that the name of St Joseph be inserted in the Canon (Eucharistic Prayer) of the Mass. This was on 8 December 1962, the first decision coming from the council. There were several Eucharistic Prayers introduced over the years following the council but none of them included St Joseph's name. On 1 May 2013, Pope Francis decreed that 'Blessed Joseph her spouse' be inserted in every Eucharistic Prayer after the name of Mary.
This change may well have been on the books for some time, but it was the first decree of Pope Francis affecting the church worldwide. It honoured Joseph as 'an exemplary model of kindness and humility [who] demonstrates the ordinary and simple virtues necessary for people to be good and genuine followers of Christ'. There are definite indicators here of how 'Good Pope John' conducted his papacy and how Pope Francis has begun his.
In just one year Pope Francis has made it clear that the Second Vatican Council is still the guiding light for the church in the 21st century. As Archbishop of Buenos Aires, a city of nearly 14 million, he identified with the poverty and hopelessness threatening the survival of so many of his people and was also frustrated by the lack of understanding and empathy of Vatican officialdom.
He had already submitted his letter of retirement, compulsory for bishops at age 75, but the cardinal electors obviously recognised him as the person needed for the job. Whether they knew what they were getting remains to be seen, but he has wasted no time in setting the stage for a continuation of the renewal sparked 50 years ago by Vatican II.
For me as a priest living and working far from Rome and often critical of the organisational church, Pope Francis is a new and welcome light. His call for priests to leave the sacristy and get among their people, to start 'smelling like the sheep' they are called to shepherd, is startlingly fresh and refreshingly challenging.
Over these months I have felt a new wind fanning this new light, blowing through the church as a gentle breeze, the kind that gets under melancholy and quietly lifts spirits. It shifted me into eager readiness to take the path Francis was travelling.
When people ask why I haven't been to Rome, I've replied that I don't want to lose my faith. That's only half joking. A better response comes in the words attributed to Cardinal John Henry Newman. Crossing stormy seas in the southern Mediterranean, he is reported to have said: 'If you don't want to get seasick, don't get too close to the engine room'.
I am not interested in ivory towers and have little tolerance of clerics who make a career of their vocation without, it would seem, 'hands on' experience of pastoral realities. Yes, that's a generalisation, but with vast numbers of lay folk denied access to the Eucharist through a shortage of priests, I have never understood why so many were required at the administration centre.
Pope Francis is changing that. He has already sent a number of priests from Rome back to their home dioceses where he sees a greater need for their service. He is also pointing to a phased 'de-centralisation', reawakening the call of the Second Vatican Council for a greater sharing of responsibility among the bishops of the world.
A start was made within a few weeks of taking over from Pope Benedict XVI, with the creation of a Council of eight cardinals, representative of the worldwide Catholic community. Francis wanted to hear the voices of the continents without their being filtered through the Roman bureaucracy. His decision to make his residence outside the papal apartments giving him access to ordinary people, emphasised for me his determination to be a pastoral prelate, a pope of the people. His first interviews, intertwined with his actions, spoke of mercy and inclusiveness – like including women (one, a Muslim) in the traditional Holy Thursday washing of the feet ceremony held in a penitentiary, and inviting three homeless men to share breakfast with him on his 77th birthday.
During my years as director of the New Zealand Bishops' media office (Catholic Communications) and, more recently, living in close association with my archbishop, I have been acutely aware of difficulties bishops have faced in dealing with Vatican officials. One bishop told me, 'When we go to Rome for our Ad Limina (the formal reporting session the bishops of each country are expected to make approximately every five years – ad limina means literally, to the threshold) we're treated like school children.'
This, together with the restriction, by the Vatican, regarding debate on governance and moral issues (such as clerical celibacy, married and/or women priests, the remarriage of divorced people), ensured the bishops' impotence in regard to their teaching and nurturing roles and in the development of theology generally.
One of Jesus' most bitter attacks was against the religious authorities who 'tie up heavy burdens and lay them on people's shoulders, but they will not lift a finger to move them' [Matthew, 23:4]. The refusal of 'Rome' to take seriously repeated requests from bishops to re-examine the discipline surrounding divorce and re-marriage, allowing reception of the Eucharist to the divorced who have remarried, to relax the conditions for celebrating the Third Rite of Reconcil
iation, are instances where I feel Jesus' words apply.
Now we have a Pope prepared to open up some of these concerns. He has called a special synod on the family for October this year and for the first time ever the Vatican invited opinions on the theme through a questionnaire sent around the world. Bishops are once again starting to feel empowered, priests are rekindling interest in their ministry and lay people are beginning to feel listened to.
Pope Francis' first major document, Evangelii Gaudium, The Joy of the Gospel, published last November, provides a wonderful context for this papacy. If the joy that is inherent in the gospel message can be seen in the lives of those who follow Jesus, so much that now concerns us and our world will be taken care of.
That's Pope Francis' agenda. It is not an easy path, given the cynicism, secularism and atheism that surrounds us but it is the only true way ahead. In his own words: 'More than by fear of going astray, my hope is that we will be moved by the fear of remaining shut up within structures which give us a false sense of security, within rules which make us harsh judges, within habits which make us feel safe, while at our door people are starving and Jesus does not tire of saying to us: "Give them something to eat".
[Mk 6:37]' [EG #49]
He reminds us that if we wish to lead a dignified and fulfilling life, we have to reach out to others and seek their good [#9].
What we have to offer is the conviction that each person is a marvellous gift of God's love. Every person is of value, everyone is worth the effort. Living this conviction, born and nourished by belief in Jesus, Son of God and God's messenger of peace and reconciliation, joy will abound.
On 11 February, the first anniversary of the resignation of Pope Benedict XVI, his successor praised him for his courage and humility. Benedict has been succeeded by one equally courageous and humble. He lights the way to the path along which we will find harmony, justice and fulfilment. He has stepped onto this path and calls us to follow. Ad multos annos, Pope Francis.