WelCom February 2018:

The Lenten Journey
Lent is a time of prayer, fasting and almsgiving that begins on Ash Wednesday (14 February this year) and lasts for the 40 days leading up to Easter. Lent marks a journey to a new beginning.
The Lent Appeal is run each year by Caritas on behalf of New Zealand's Catholic Bishops. The Appeal enables the social justice agency to continue working with poor and vulnerable communities for a world free of poverty and injustice.
This year's Lenten Appeal, theme 'Let us go together' comes from Venerable Suzanne Aubert's 1885 book, New and Complete Manual of Māori Conversation. The theme reflects on our journey with God and with each other, as we ourselves are transformed and as we transform the world around us – together.
---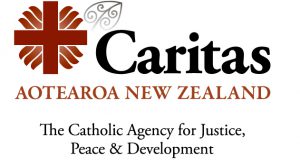 Caritas Aotearoa New Zealand is the New Zealand Catholic Bishops' agency for justice, peace and development. In partnership with communities, dioceses and parishes we undertake human development initiatives that sustains families and communities, emergency relief, education and advocating for change.
Gospel values and Catholic social-teaching principles underpin our work. We are part of Caritas Internationalis, one of the largest humanitarian networks in the world. The Caritas network operates around the world in over 200 countries and territories, supporting poor and vulnerable communities, regardless of ethnicity, religion or nationality.
www.caritas.org.nz 800 22 10 22
---
Lenten Reflections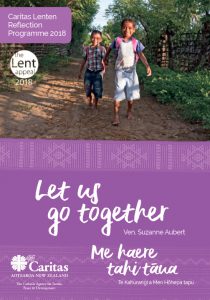 The Lenten season provides an opportunity each year to deepen our understanding of our faith through a reflection programme on the Gospels. We are called to open ourselves to changes that God wants to make in us so we can be the best we can be.
For many years, Caritas has provided a reflection programme to support education and formation for parishes, communities and families.
The Caritas Lenten Reflection Programme includes prayers, Gospel readings, reflections, and discussion materials with a focus on helping us live the Gospels. It is available in English, Māori, Samoan and Tongan from the Caritas office by calling 0800 22 10 22, or you can download it from the Caritas website – www.caritas.org.nz
---
Your Lent Donations Change Lives
Thank you to all those who have generously supported our life-changing work by donating to the Lent Appeal in previous years.
South Sudan
South Sudan is a new nation gaining independence in 2011. It was beginning to develop when conflict broke-out in July 2016. Since the start of the conflict, Caritas has supported thousands of South Sudanese people.
We are able to provide assistance by partnering with Caritas South Sudan, located in the capital – Juba. Because of the conflict many people starve due to lack of access to food, while protecting their lands or while fleeing. An estimated 5.5 million people are facing severe hunger and some 100,000 are facing famine.
Currently, 1.86 million people are internally displaced, another 1 million have taken refuge in Uganda and 2.1 million more are seeking asylum or taking refuge in other surrounding countries.
As part of our emergency response, we work with other Caritas agencies to deliver and distribute: emergency food supplies; shelter and household items such as jerry cans, buckets, and other essentials; and seeds and tools. Our Humanitarian Co-ordinator, Mark Mitchell, has been visiting South Sudan since 2016 to conduct needs assessments to better coordinate our response.
Francis Ojoadi, Humanitarian Officer, Caritas South Sudan says 'Caritas will continue to provide essential assistance, and we need to be strong to support those who are less fortunate than us…'.
Your donations enable us to respond to major emergencies including the recent Rohingya refugee crisis in Bangladesh and ongoing work post-El Nino in Papua New Guinea.
---
The ongoing support from generous donors enables us to continue our development, emergency relief, advocacy and education work around the world, including in Aotearoa New Zealand.
Empowering women of Timor-Leste
Since 2004, Caritas has worked in Timor-Leste to support the economic development of rural Timorese women. In 2015, the programme officially became Hamahon Feto Timor (HAFOTI).
HAFOTI is a women's livelihood organisation that provides training, marketing opportunities and revolving loans to rural women to generate income for them. Through HAFOTI, Caritas and its partners in Timor-Leste are able to improve the well-being of rural Timorese women.
Its 252 members produce quality goods such as virgin coconut oil, banana chips and local handicrafts for sale in their shop in Dili, supermarkets and trade fairs. Members have gone from having irregular income through subsistence agriculture to having regular, sustainable incomes.
In February 2017 the first food production centre was opened in Madabeno village, Aileu district. The centre supports the hygienic production of local products like soy milk and also provides a space for women to gather for meetings and training. A storeroom for goods ready to be sold and a secure location to store production equipment are additional benefits of the centre.
"Their [HAFOTI women] lives have improved…they have access to school and health", says Mana Dortia, Director, HAFOTI. "My life has improved."
---
Advocating for change
In continuing to work for a world free of poverty and injustice, advocating for change at all levels in both Aotearoa New Zealand and around the world is crucial to achieving this aim.
From our environmental advocacy highlighting the impacts of climate change on communities in Oceania, to advocating the care for our creation on global platforms, we are working to enact change.
Our annual State of the Environment for Oceania 2017 Report, Turning the Tide, focused on our relationships with the seas and environment-at-large. Among the issues highlighted were: the impact and threat of further sea-bed mining and drilling; preparedness and resilience for extreme-weather events; and the shared responsibility we all have on working together to care for our oceans.
In our communities, our annual Social Justice Week theme in 2017 was about belonging – 'Weaving the Bonds of Belonging: Knowing our neighbours'. Through this theme we tackled barriers to belonging and being part of a community such as housing, homelessness, and poverty. This theme was represented in our partnership on the 'World Day of the Poor' video last November and our support for ending child poverty in New Zealand.
---
Lent in Schools
Let us go together: Journeying to peace and hope in Timor-Leste is the title of the Lent 2018 education resource, which features stories from a family in Timor-Leste.
The resources cover schooling and education; everyday tasks like meals, washing, and getting water; church; and empowering rural women.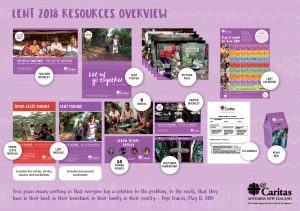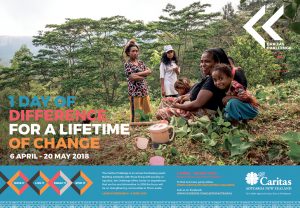 ---
Caritas Challenge
6 April — 20 May 2018
The Caritas Challenge is a 24-hour event for schools and youth groups around
New Zealand to demonstrate solidarity with those living with poverty or injustice.
During the Challenge, young people are encouraged to undertake an activity for 24 hours that brings them closer to the living conditions of those less fortunate. There are four challenges to choose from: Move It, Live It, Sweat It and Stop It.
This year the attention is on the Hamahon Feto Timor programme in Timor-Leste. HAFOTI is a women's livelihood organisation providing training, marketing opportunities, and loans to rural women to generate income. All funds raised will go towards supporting HAFOTI.
---
Justice Leadership Days
Caritas Justice Leadership Days are whole-day workshops for senior secondary school students, about social-justice issues around the world, including in Aotearoa New Zealand.
Students learn in a fun and interactive environment how to be a social-justice leader within school communities, and every Catholic secondary school in New Zealand
is invited to bring up to 12 senior students (Years 12–13).
To register your interest or for more information, please contact Michael Stewart at michaels@caritas.org.nz or visit us online at www.caritas.org.nz
---
Giving at Lent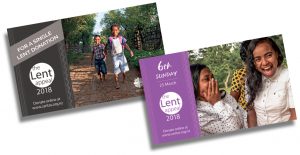 Donations to the Bishops' Lent Appeal enable Caritas Aotearoa New Zealand's work helping those who need it most as we engage in relationships and partnerships for lasting change together.
Donate throughout the weeks of Lent, or make a one-off donation using the Lent Appeal weekly or single donation envelopes distributed by your parish.
Leave donation envelopes in your parish's collection basket or post to Caritas, PO Box 12193, Wellington 6144.
You can also donate online www.caritas.org.nz or call 0800 22 10 22 to donate.
---
The dignity of the marginalised
Mark Mitchell
The Don Bosco compound at Gumbo, just outside Juba in South Sudan, is run by dedicated Salesians. When the conflict restarted in 2016 it became a place of refuge; a safehaven for people driven from their homes by soldiers and militia, their houses and crops burnt, and family members murdered and brutalised.
I visited the camp last year with colleagues from the local diocese and from Caritas South Sudan to conduct a needs assessment to guide the Caritas response plan. We heard individual stories – some had travelled 100km, they had nothing and children were painfully thin having eaten only a few leaves and bitter fruit gathered en route.
Regina Pita (56) had recently arrived. She showed me the shelter she had made even though she suffers from epilepsy. She no family or other support. Others kept away from her because her convulsions made them afraid.
The conflict meant she was unable to access the drugs she needed and has frequent seizures. Somehow, she managed to find some coffee beans that she chewed on, and which she said made her feel a bit better. Even so, while I was with her she had another seizure.
Whether in a conflict or following a natural disaster, it's people like Regina who Caritas seek out most in an emergency. It's often difficult to help everyone as resources are limited. So we look for the most vulnerable – the elderly, mothers and young children, and people living with a disability. In a situation like this, we work with those in the camp to help strengthen community so that Regina and others like her aren't isolated and unsupported, but rather have encouragement and resources they need to live with dignity.
Before leaving the camp I met with the Salesian priest in charge. I passed on Regina's details and asked that he help rebuild a better shelter for her.
Mark Mitchell is Humanitarian Aid Coordinator, Caritas Aotearoa New Zealand.