They travelled an hour and a half from Wairoa to Napier; they travelled from Ohakune and Hiruharama to Whanganui; a bus load from Dannevirke to Palmerston North, and from all around te Maunganui o Taranaki the people gathered in New Plymouth and Hawera.
More than a thousand people came together on the cold nights of winter, not just once, but four times, and not just for an hour but for an evening of learning, prayer and sharing food.
What called them together and what has left us all so excited and richly fed? It wasn't the meat pies or the soup, though they were wonderful; it was the opportunity to meet, to pray and to ponder the Mass in Slow Motion.
This event was inspired by and named after one of the great priests of the diocese, Fr Shaun Hurley, who died last year after giving his life in ministry and who served as the liturgical director of the diocese.
The Diocese of Palmerston North decided that we would gather in the six hubs for four evenings of walking through the Mass. The evenings were structured on our gathering in prayer and then focusing on the introductory rites of the Mass – the Liturgy of the Word, the Liturgy of the Eucharist and the Communion and Dismissal Rite.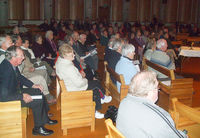 In addition we reflected on the core principles of our liturgical life as outlined in Sacrosanctum Concilium, full and active participation and the real presence of the Lord in the Eucharist; the principles for the ordering of the place in which we gather; the liturgical year and the lectionary; and on our last evening together we celebrated, in each place, our unity in Christ, around the bishop, in the Eucharist.
People responded with enthusiasm, clearly enjoying gathering, listening to the Word, giving thanks for all that the Lord does in the midst of the church. All are fully aware that we have been sent, as one body, to worship, to build community and, in prayer, to serve those who are in need.
This series of evenings has been so successful that the diocese has asked Bishop Peter to arrange a similar seminar next year so, once again, the people of God can gather, be formed by the Word and go forward together. The diocesan team extends its thanks to all those who organised, made tea, welcomed and, above all, to those who travelled to join the 'townies' and to those who welcomed them.
Images (Photos: Richard Puanaki):
Right: The presenters Danny Karatea-Goddard, Bishop Peter and Mark Richards.
Left: Participants at a seminar in Napier.