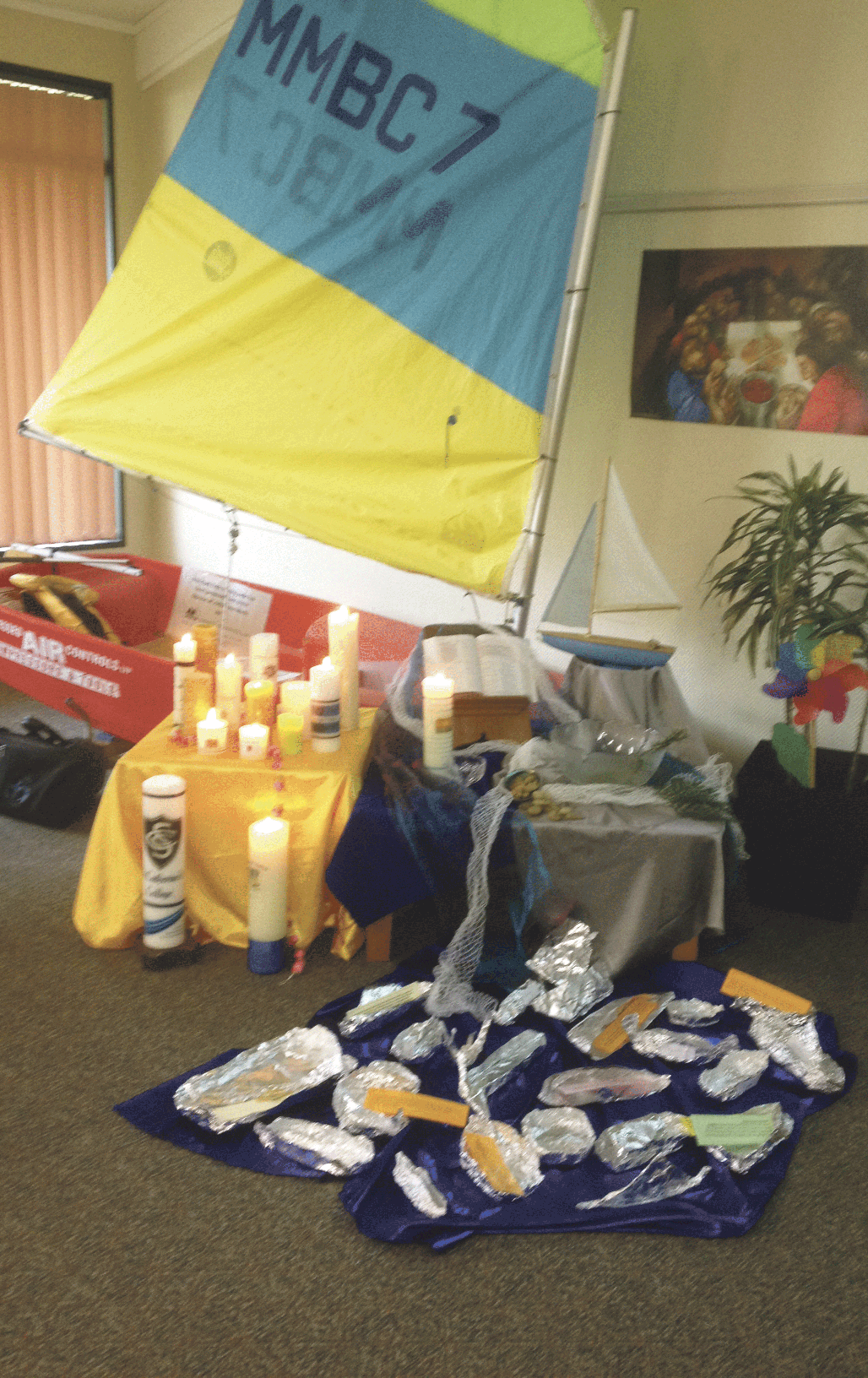 August 2014
Schools
Lorraine Wilson
The Directors of Religious Studies for Secondary Schools for our two dioceses gathered for their annual conference 25–27 June this year.
The theme was 'The Wind in Our Sails that leads to Encountering Jesus'.
The conference was based on the NZ Bishops Document The Catholic Education of School-Age Children and flowed from 'Encounter-Knowledge-Witness'.
Day one, Progressive Prayer Day, began with everyone creating tinfoil boats to symbolise the journeys we each share.
Other sessions included 'Praying in Colour' led by Mary-Grace Williams, a journey of a prayer labyrinth led by Mike Delaney, guided meditation with Rex Begley, and a 'God in Creation' walk led by Lynette Roberts-King.Fr Chris Martin and by Fr Matt Crawford celebrated a symbolic candlelit mass in the cathedral chapel at the end the day followed by a hearty dinner.
Day two looked at how the NZ Bishops document sees the role of the DRS in terms of Catholic character and the religious education curriculum.
Keynote speakers included Mark Richards, Manager Pastoral Services, Palmerston North Diocese, on the Liturgy of the Word and the Eucharist and Dr Chris Duthie-Jung, head of the Catholic Institute's National Centre for Religious Studies.
Day three also stemmed from 'Encounter-Knowledge-Witness' with discussion about what was happening within each diocese, challenges faced by DRSs, as well as time with Bishop Charles and Lynette Roberts-King, Catholic Manager of Education for the Palmerston North Diocese.
The conference concluded on a high with sharing of best practice and a final blessing. There is no doubt our DRSs are wonderful witnesses to the loving Christ in our schools.
Conference coordinators Dave Sullivan and Lorraine Wilson, both Secondary Religious Education Advisors, were thrilled with the responses and contributions of everyone involved.
Lorraine Wilson is a Religious Education Advisor for Secondary Schools, Palmerston North Diocese.