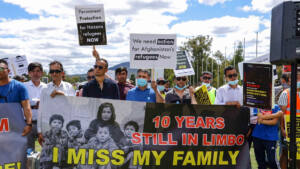 WelCom March 2023
Thousands of refugees across Australia who have lived 'in limbo' for years will be eligible to stay in the country permanently as the Labor Government moves to enact a pre-election commitment.
As of 13 February, about 19,000 refugees who arrived in Australia before Operation Sovereign Borders started in 2013 will be able to apply to transition to a permanent Resolution of Status (RoS) visa.
The move affects people who hold Temporary Protection Visas (TPV) and Safe Haven Enterprise Visas (SHEV) which Labor promised to abolish at the last election and have been described as cruel by human rights groups.
Those granted a new visa will have the same rights and benefits as all other permanent residents, and will be immediately eligible for social security payments, access to the National Disability Insurance Scheme and higher education assistance.
They will also be permitted to apply to become citizens once they meet the necessary citizenship requirements and will be able to sponsor family members to come to Australia.
Immigration Minister Andrew Giles made the long-awaited announcement, saying thousands of people who have contributed to Australia had endured a decade of uncertainty due to policies of former Coalition governments.
'TPV and SHEV holders work, pay taxes, start businesses, employ Australians and build lives in our communities — often in rural and regional areas,' he said. 'Without permanent visas, however, they've been unable to get a loan to buy a house, build their businesses or pursue further education. It makes no sense — economically or socially — to keep them in limbo.'
Source: ABC News/CathNews Australia