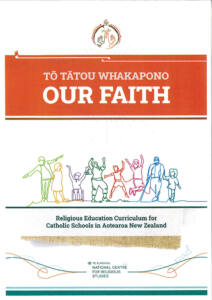 WelCom September 2022
Annette Scullion
A new national curriculum for 'Religious Education in Catholic Schools in Aotearoa New Zealand' is being introduced to principals and teachers of religious education in Catholic primary schools and colleges. Titled 'To Tātou Whakapono – Our Faith', the new curriculum has been approved by the New Zealand Catholic bishops.
In preparation for the curriculum's commencement throughout Aotearoa New Zealand in 2023/24, Colin MacLeod, Director Te Kupenga National Centre for Religious Studies, and his development team have been running a series of workshops.
There have also been opportunities for the wider Catholic community, including priests, lay pastoral leaders and board members of schools and colleges, to hear from the developers of this curriculum.
The workshops have introduced a comprehensive document that explains the new curriculum and how it presents learning about the Catholic faith. It sets out Catholic understanding as Te Rama Whakapono, the Light of Faith, and Te Rama Aroha, the Light of Love.
'The light of faith and the light of love are two critical areas of the themes,' says Colin, 'as is living, breathing religious education in our schools and growing in faith'.
'The curriculum presents a coherent and seamless religious education from years 1 to year 13,' Colin says. 'There is a greater emphasis on connecting to the lives of children, their spiritual journey, a personal call to holiness – and wholeness – and their role in the mission of the Church. It reveals each child made in the image of God, an encounter with Christ, learning the place of Scripture, connecting through Church history and the supportive role of teachers.'
Themes and content areas include discipleship and mission, sacramental living, Catholic social teaching, morality and ethics, faith and culture and Christian hope.
In August, Colin and his team facilitated workshops at Bishop Viard College in Porirua and St Joseph's in Nelson for principals, directors of religious studies and religious education staff from the Catholic primary and secondary schools across the Archdiocese of Wellington.
'The current primary RE curriculum is 20 years old,' says Kelly Ross Vicar for Education, Archdiocese of Wellington. 'While some aspects of it are dated, the content is relevant even though the nature of teaching and the makeup of New Zealand classrooms have changed significantly in the past two decades. However, in response to the needs of teachers, young people and parents in today's context, a new curriculum was needed,' she said.
'The new curriculum aims to provide a framework for the purpose, content and journey of religious education in our Catholic schools. It guides rich learning about God, good news, our story and being Church and connects this to the lived experience of grace, holiness, wisdom, justice and prayer, all in a context of each of us being on a hīkoi wairua spiritual journey. It is an essential document for Aotearoa New Zealand Catholic schools, and weaves together from the heart of the Catholic faith so this knowledge may connect with the lives of the young people in our care.
'Feedback from principals and directors of religious studies at the workshops was of excitement and they were impressed with the resources being created by NCRS to support ākonga learning. They are looking forward to immersing themselves in professional development to gain a good understanding of the new curriculum with their RE advisers over the next year,' Kelly said.
Video clips about Tō Tātou Whakapono – Our Faith, describing the journey, themes and content, as well as resources are on the NCRS website at: tekupenga.ac.nz/ncrs/