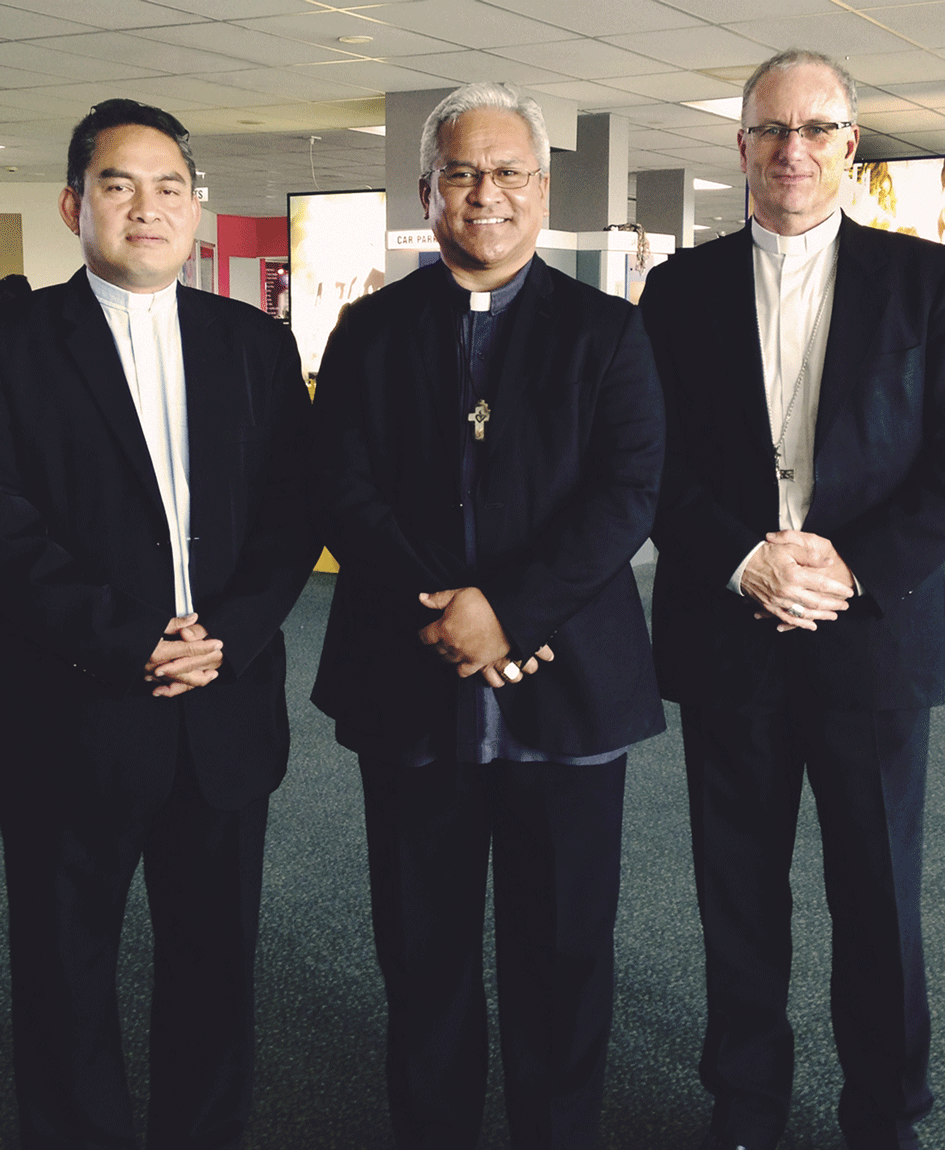 June 2015
News
Deb Lucy
Earlier this year the Tongan community of New Zealand rejoiced at the news Pope Francis had elected a Tongan cardinal for the first time. At 53 years of age, Cardinal Soane Patita Paini Mafi is the youngest member of the College of Cardinals.
The excitement was relived in the Palmerston North Diocese during April when Cardinal Mafi joined the Tongan community in Hawkes Bay to celebrate Mass at St Peter Chanel Parish of Hastings and Havelock North.
Fr Vince Onesi, parish priest of Hastings, said, 'The parishioners of the Pastoral Area of Hastings along with the Tongan community of the Diocese of Palmerston North had the honour of celebrating a Tongan Mass with Cardinal Mafi on Friday evening, 24 April. More than 400 people attended the Mass and a Tongan feast was held afterwards.'
Bishop Charles Drennan, who had worked at the Synod on the New Evangelisation with the then Bishop Mafi, said he was taken with his gentle and encouraging presence.
Bishop Charles said, 'I appreciate greatly the new Cardinal's visit to the Tongan community of Hawkes Bay. His presence will give the opportunity for them to gather and to reflect on what their culture brings to our common faith'.
Cardinal Mafi told the story about his arrival at Napier airport. 'I was walking across the tarmac towards the terminal when I noticed Bishop Charles waiting to greet me. I felt overwhelmed that the Bishop should have travelled from Palmerston North just for me…then I remembered, "Oh I am a Cardinal now!" It is taking some time to actually sink in.'
A local parishioner described Cardinal Mafi as a 'friendly and humble man', and Fr Vince said, 'St Peter Chanel Hastings has been honoured to host such an event and to have such a lovely man in our midst'.
Deb Lucy is secretary of St Peter Chanel Parish, Hastings.