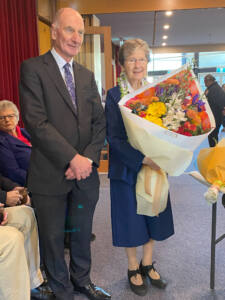 WelCom June/July 2023
Jane Langham, Our Lady of Hope Parish, Tawa/Titahi Bay
A celebration to mark the 60th anniversary of Sr Francine becoming a Marist Sister – a branch of the Society of Mary – was held at the morning Mass for Our Lady of Hope parish in Tawa/Titahi Bay, on 9 June. Over 80 people were there to celebrate with Sr Francine and take part in her blessing. The large number present was more than twice the usual number for a weekday Mass at this time of year.
The cover of the Order of Service honoured Sr Francine with the words: Thank you for the wonderful unsung work you do for our parish in a spirit of kindness and love. May you continue to be sustained and strengthened by His grace and may you experience the fullness of His holy joy.
At a generous morning tea after Mass, parish council chair Marie Prescott presented Sr Francine with flowers and a bottle of wine from the parish. Larry Greco also gave Sr Francine a bouquet of flowers on behalf of Ninness Funerals, in recognition her assistance at many funerals over several years.
Sr Francine said, 'I am so grateful to God for bringing me here for 60 years. I have so many people to thank including my first piano teacher, who gave me free lessons when my family could not have afforded them and now music is my constant companion. The Lord is with us all and everything is gift.'