Cecily McNeill
5 August 2011
Catholic Social Services in Wellington threw a party last month to celebrate the 80th birthday of one of its longest-serving staff, Fr Petelo Mauga.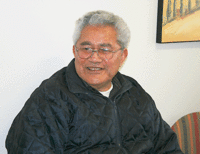 In 1972 Fr Petelo left the Marist priesthood and, after a time, started work with the Justice Department. Two years later he was married and raised a family of three. In 1977 he went to the Department of Social Welfare in Porirua during a crackdown on overstayers and was able to work with a number of Samoan people who were affected.
Fr Petelo's wife died in 2000 when their third child was 23. He felt that he still had 10 years of good ministry in him and decided with the support of friends and family to try to re-enter the ministry.
He said it was a highlight of the week and a 'Joy to come to Catholic Social Services'.
Director Barbara Gilray said Fr Petelo was highly respected among his clients, particularly for his work with troubled families of all ethnicities.