Friends and family from all over New Zealand and Australia celebrated with Home of Compassion Sister Anna-Marie Shortall her 90th birthday in early February.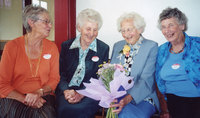 Amid the joy of the occasion Sr Anna-Marie paused to reflect on two special gifts that were given to her during her life. She thanked God for the wonderful childhood in the farming area of Collington near Feilding, and the peace that came from answering the call to religious life after fighting it for 28 years.
This grace-filled woman of God who is based in Hiruharama [Jerusalem] on the banks of the Whanganui River still finds her days busy and full – offering hospitality to the visitors who pass through and tending to her 'family' of chooks and vegetable garden.
Pictured is Sr Anna-Marie Shortall admiring the beautiful bouquet of flowers with her sisters, from left, Mary-Jo Best, Wainuiomata, Jane Pfahlert, Hokitika and Sheila Wealleans, Napier.