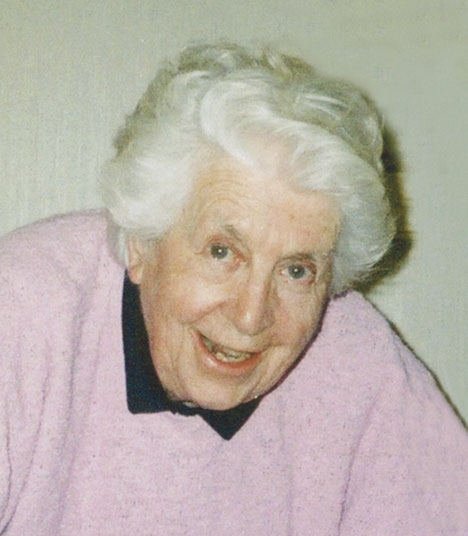 Obituary
November 2013
Jim Davis
Friends of Nancy May 'Twinkle' Black gathered in St Peter Chanel Church Motueka on 4 September to farewell this colleague, mentor, teacher, friend and confidante and much more to so many.
Twinkle was born in Nelson on 15 March 1932 to Lily Annie Black known as Nancy and George Charles Cecil Black who was the Labour MP for West Coast Tasman.
Her father died when Twinkle was seven months old and Twinkle then lived with her mum in Collingwood Street and went to Sacred Heart Primary School in Nelson for six years.
When the family moved to Motueka, Twinkle went to the Motueka District High School and from there to Teachers Training College in Christchurch finishing her third, probationary year at Motueka High School. After this she got a permanent position at the school and remained there until 1958. She was an exceptional and innovative teacher, a remarkable woman and a determined educator. She was also one of the most gracious and tenacious leaders I know – a formidable combination.
In 1958 she was a foundation teacher at Motueka South School, holding a senior position. In 1965 she moved to Motueka Primary School – now Parklands –until she retired in 1990. In between times she was seconded as advisor to the Nelson Education Board where she was appointed to a temporary position. This covered the whole of the Top of the South.
For Twinkle living out of a suitcase was no real joy. She would have preferred to be teaching. She was also on the Wellington Education Board for the Marlborough Area. She was also branch president and a counsellor for the teachers' union the NZEI eventually being made a Life Member. She was also on the National Advisory Committee reading schemes for new entrants and did in-service training for maths. After she retired she worked for six years as a relief teacher at St Peter Chanel Primary School where she enjoyed just teaching the kids.
She held a Certificate of Merit from the Teachers' Institute. She was a foundation and Life member of Soroptimists. She was President of the Catholic Women's League and a delegate to their national conferences, representing all the Top of the South branches taking leave without pay to attend conferences. She also received a Certificate from the Archdiocese of Wellington for outstanding dedication and service to the Church. Part of this would have been in recognition for her tremendous help in the building of St Peter Chanel School with Fr Murt Bradford, which included fundraising, painting and settling in the Sisters of St Joseph because there was no convent when they arrived to teach at the new school.
A keen sportswoman, Twinkle played tennis, cricket, badminton, representing Nelson against Australia, netball and coached, refereed and played golf. She also enjoyed bridge.
In her moonlighting days she served and waitressed part time in the hotel and worked 8am until midnight in the tearooms in Kaiteriteri during the school holidays, also working late nights in Budden's Bookshop on Fridays.
From her beloved bach at Kaiteriteri which she bought in 1968, she also enjoyed fishing.
She is remembered for her sense of humour, her artistic abilities, her teaching skills, her love of music and her expertise in playing the piano, her zest for living, her enthusiasm and energy, her positive 'can do' attitude, her fierce determination to make a difference and her compassion, concern and love for others.