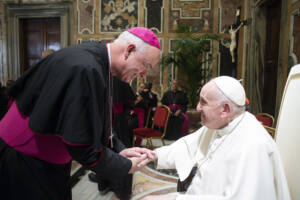 WelCom November 2022
During September, recently ordained bishops from around the world met in Rome to take part in the 'Formation Course for New Bishops'. The tradition started in 2000 by St Pope John Paul II. Wellington Coadjutor Archbishop Paul Martin sm attended and and reports on his experience.
From September 5 to 17, I had the opportunity, along with Bishop Michael Gielen, to attend the course for new bishops run by the Dicastery for the Evangelisation of Peoples. This was held at St Paul's College, a place where priests from mission countries reside while studying in Rome.
There were 80 bishops on the course, predominately from African countries as well as from Asia and Central and South America.
I had not been able to attend the course when it was last run in 2018 so it was a chance to meet bishops from other mission countries and to be introduced to the various Roman dicasteries that make up the Roman Curia.
There was a significant amount of input during the two weeks of the course. Each day we would have talks from either the head of a Roman dicastery, such as Secretariat of State, Promoting Integral Human Development Divine Worship, Sacraments and Divine Worship or from bishops from dioceses about matters relating to diocesan life and management. We had a chance at each session to ask any questions which arose from what was presented. It was particularly interesting to meet with the team who are overseeing the Synod on Synodality and to hear of the progress made and the vision that lies behind this.
We also had the opportunity of a reflection day at Castel Gandolfo, the town where the Holy Father has a summer retreat. We were privileged to have talks prepared by Cardinal Cantalamessa, the preacher to the Papal household. We also met with Pope Francis on the last day of the course. Here he opened the floor for anyone who wished to ask any questions or make any statements. He replied to them with great enthusiasm and energy. It was inspiring to see a man whose physical health is diminishing, but whose energy for the Gospel and the Church is strong and vital.
I found the time together with the other bishops helpful to talk about what we were all experiencing. The opportunity to pray together and reflect was very fruitful. I also appreciated the opportunity to visit the Marist General House and meet with the people I had worked with when I was in Rome prior to becoming a bishop.
The course reminded me that the Church is so much bigger than just our archdiocese, that we face many challenges, but also there are wonderful opportunities for depthing our faith and learning from one another. I look forward to being able to put this learning into action.