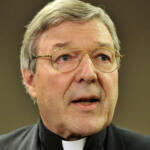 WelCom February 2023
Cardinal George Pell, who died in Rome in January of a cardiac arrest following hip surgery, has been remembered as 'a man of God and a man of the Church' during his funeral Mass at St Peter's Basilica.
The death of Cardinal Pell was a shock because just five days earlier he had concelebrated the funeral of Pope Benedict XVI and 'seemed in good health,' said Cardinal Giovanni Battista Re, dean of the College of Cardinals.
In his homily at Cardinal Pell's funeral Mass, Cardinal Re described the Australian prelate as often being 'a strong-willed and decisive protagonist' with 'a strong temperament that, at times, could appear harsh'.
Cardinal Pell died of a heart attack on January 10 at a Rome hospital after undergoing hip surgery. He was 81. He was buried at St Mary's Cathedral in Sydney, where he had served as archbishop before Pope Francis chose him as prefect of the Vatican Secretariat for the Economy.
The pope, who had praised the cardinal for keeping his faith 'with perseverance even in the hour of trial,' arrived in St Peter's Basilica at the end of the Mass to preside over the final rite of commendation, as he usually does for cardinals who die in Rome.
'The last years of his life were marked by an unjust and painful condemnation,' Cardinal Re said, referring to Cardinal Pell's conviction on charges of sexual abuse and his 404 days in jail before the High Court overturned the conviction.
The cardinal's three-volume Prison Journal made clear 'how much faith and prayer' helped him, and the books could help others who 'suffer unjustly,' Cardinal Re said.
The cardinal's mortal remains were transported home to Sydney where a solemn Requiem Mass was celebrated. The cardinal's body was laid to rest in the crypt of St Mary's Cathedral.
Reflecting on the life of Cardinal Pell, Archbishop Mark Coleridge of Brisbane said 'he was strong, even vehement in his faith, his convictions, his likes and dislikes. He was always a polarising figure, stirring strongly contrasting reactions. He had both passionate friends and passionate foes.
'In part, this was because his deepest instincts were those of a politician who thrived on opposition and conflict. It was also tied to an apocalyptic view of the world seen as an arena where good and evil, life and death, light and darkness contended. There wasn't much middle ground for George Pell, not too many shades of grey.
Archbishop Coleridge said that Cardinal Pell had 'unusual gifts of leadership – intelligence, courage, conviction, self-confidence, political nous and tenacity among them. Though he chose a life in the Church, George Pell would have been a leader in any field he had chosen.
'It will take time to assess his legacy in the Church in Australia, which will prove as complex, even as contradictory as the man himself,' said Archbishop Coleridge.
Cardinal George Pell was born in Ballarat, Australia, 8 June 1941. He died at Salvator Mundi International Hospital in Rome, Italy, on 10 January 2023. Ordained a priest in 1966 and bishop in 1987, he was made a cardinal in 2003.
Source: CathNews Australia