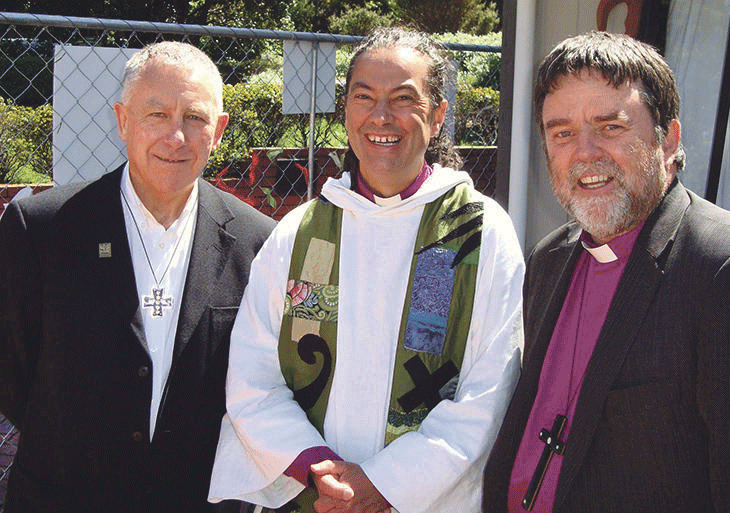 November 2014
Feature

The Most Reverend Philip Richardson
Unitatis Redintegratio, the Second Vatican Council's Decree on Ecumenism, was signed 50 years ago, on 21 November 1964. Wel-Com invited the Anglican Bishop of Taranaki, The Most Reverend Philip Richardson, for his observations on the significance of this document for Anglican-Catholic relations.
The 50th anniversary of the Vatican II Decree on Ecumenism covers just the span of my lifetime but reflects a sea change in our inter-church relationships. Personally, I have been shaped by the possibilities that Vatican II opened up.
I undertook my undergraduate theological studies in a faculty of theology staffed by Catholic and Presbyterian teachers. My closest friend is a Catholic priest who for a quarter of a century has been head of a university college with a Presbyterian foundation.
I lived with the De La Salle Brothers in New Plymouth at the start of my episcopal ministry 15 years ago and count the brothers as part of our extended family. I have enjoyed many Anglican Catholic Ash Wednesday and Advent services.
I have been part of joint study groups and for 15 years have been greatly enriched by regular meetings with the Catholic Bishops of Aotearoa New Zealand.
I have watched the growing mutual understanding of our respective doctrinal positions on some key issues through the work of the Anglican Roman Catholic International Commission and now, along with many people around the world, rejoice in the critical collaboration between our respective Churches in confronting the horrors of modern slavery and human trafficking.
This initiative is one of the primary responsibilities of Archbishop Sir David Moxon from New Zealand who is currently serving as the Anglican Communion's representative to the Holy See based at the Anglican Centre in Rome.
It had its genesis in a conversation over lunch between the Archbishop of Canterbury Justin Welby and Pope Francis.
I am writing this short reflection at the Cistercian Monastery at Kopua while sharing in the pre-ordination retreat of the next Anglican Bishop of Waiapu.
I tell of these things because the transformation in our relationships, and the level of engagement with each other that these examples represent was anticipated by the Decree on Ecumenism all those years ago. 'Before it can begin, all dialogue presupposes that an attitude of sympathy and openness between those who will take part has been brought about by more or less spontaneous contacts and exchanges, in the details of ordinary daily life. It is in such a context of human relationships, which can be very varied, that dialogue of whatever sort usually takes its origin and form' (Decree on Ecumenism; Part IV cl. 1.)
Elsewhere in the documents of Vatican II, encouragement is given to collaborate in everything from social projects, prayer and worship to joint Bible studies. This we are doing and we are the richer for it.
It was Thomas Merton who asked: 'How dare we pray for unity when it is has been given as a gift of the Spirit?' We can focus on our differences or on our common call in Christ.
Our track record in this country over the past 50 years is of co-operation for the sake of Christ's new community of peace, justice and righteousness.
Thanks be to God.
The Most Reverend Philip Richardson is Bishop of Taranaki and Archbishop of the New Zealand Dioceses of the Anglican Church.