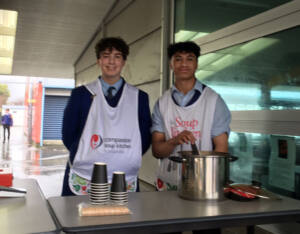 WelCom November 2022
Ann D'Souza
A 'Vinnies Soup Week' held at St Bernard's College, Lower Hutt, to support the local Vinnies' food bank also raised $400 for Home of Compassion Soup Kitchen.
Every year, Johnny Boon, Director of Religious Studies, promotes Soup Week to coincide with Social Justice Week, where a gold coin donation or a can of food is exchanged for a cup of soup.
Each day the Food Tech Teacher and Vinnies students served a different soup ranging from Hot Spicy Curry Soup, Tomato Soup to Mexican Soup. The students and staff enjoyed the soup – especially on the very cold days.
As well as raising $400 for Compassion Soup Kitchen, a huge container of food cans was donated to the local foodbank on Dudley St. Staff were grateful to the students for helping to replenish their low food stocks.
The students took pride in seeing the difference they were making in reaching out to the community. Before the term break students also took part in their annual sleepover in the cardboard box project to highlight the issue of homelessness.