World news
Forrest Chambers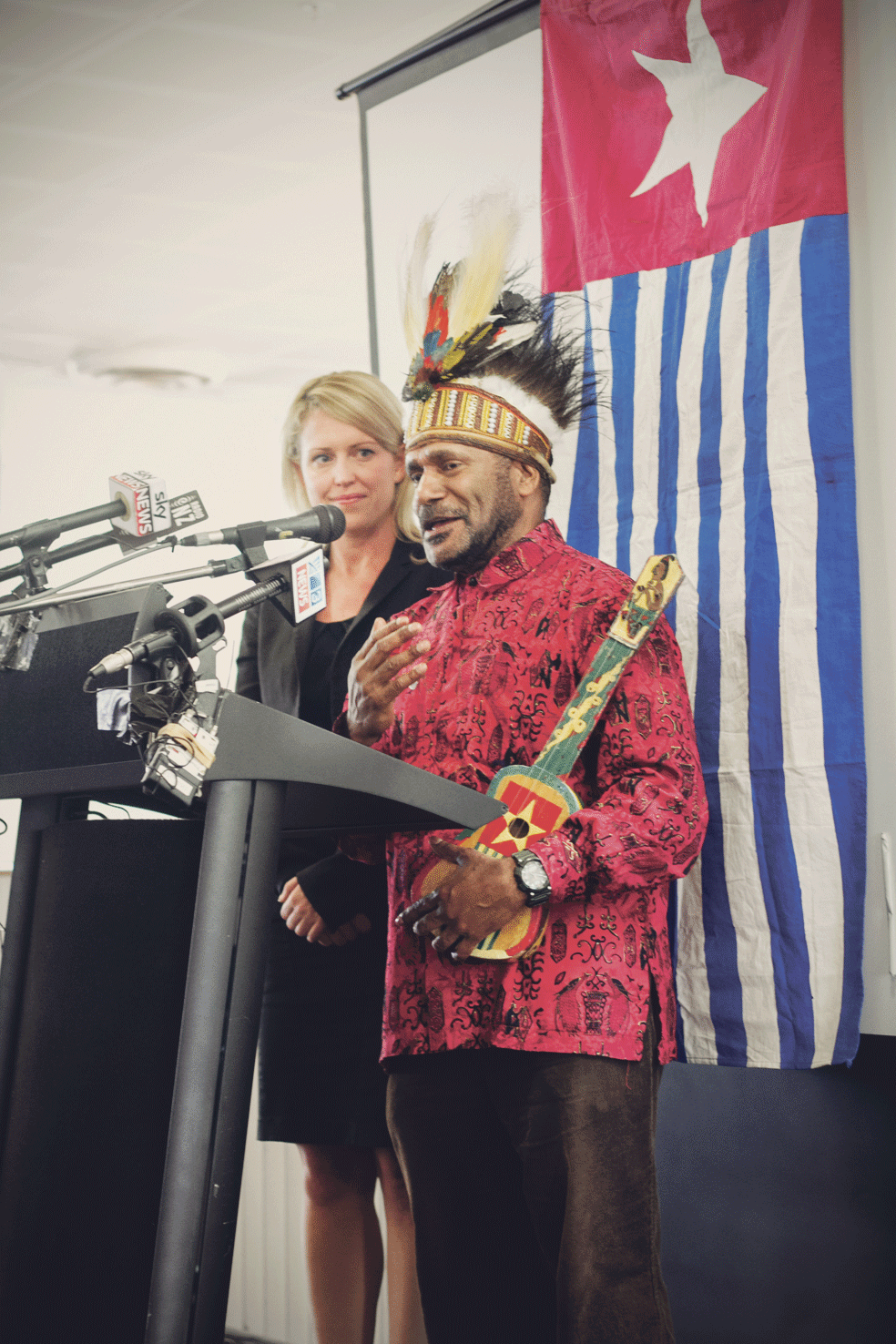 West Papuan leader-in-exile Benny Wenda was barred from speaking in Parliament last month and instead had to tell his story across the road in Rutherford House.
Foreign Affairs minister Murray McCully and prime minister John Key shunned Mr Wenda despite the fact that he has been welcomed in the British and Scottish Parliaments and in the United Nations. Efforts to meet Mr Key to discuss the aspirations of the people of West Papua for inde­pendence from Indonesia also failed.
But this did not deter Benny from telling his story of suffering and persecution throughout the country.
Benny spoke of how, as a young boy, he saw his teenage aunts raped by members of the occupying Indo­nesian military.
He told of seeing his uncle 'cruci­fied' on an Indonesian flagpole and buried alive because he was a Chris­tian. He told of how, after being ar­rested as a pro-independence activist he was kept in solitary confinement in appalling conditions.
Alongside Benny, British interna­tional lawyer Jennifer Robinson who has worked on Benny's behalf for a number of years also addressed the gathering. She described how, after finding him locked in a filthy cell, she was able to help him to escape to England where he was eventually granted political asylum.
Meanwhile Interpol put out a Red Alert at Indonesia's request to stop him from travelling and speaking in­ternationally. It took two more years of legal work to have him cleared with Interpol, so he is now free to travel, but he must live in exile for his own safety.
West Papuan history
West Papua, the western half of the island of New Guinea, was a Dutch colony, handed over to the United Nations in 1962 to administer its es­tablishment as an independent state.
This process was then handed on to Indonesia which ran a referendum to see whether West Papuans would vote to be governed by Indonesia.
The Indonesians selected 1022 people to make a 'once and for all' vote on behalf of the population of nearly two million. In a climate of violence and fear, the vote of the 1022 'representatives' went in favour of Indonesian governance.
It was a bogus plebiscite executed at the point of a gun. West Papua then became not just an Indonesian colony, but an Indonesian military zone run by the army.
There is no freedom of speech, no free media, military personnel conduct terror raids and bombings on villages and independence leaders are killed or imprisoned. Even the International Red Cross is barred from operating inside West Papua.
Benny talked of the beautiful country his home used to be – the tree kangaroos and the many birds. 'The jungle is our supermarket, because we have no commercial one … But now huge areas are being destroyed by logging and mining.'
And yet, despite this injustice his country continues to endure, Benny speaks with no ill-will. His call for independence is filled with gracious­ness. 'If, after our independence, the Indonesians who are living there want to stay in our country, they can stay.'
New Zealand has an ongoing military training relationship with the Indonesian armed forces.