Almost a quarter of the roll at St Pius X primary school, New Plymouth, celebrated their First Holy Communion on Ascension Sunday (20 May). Twenty-three of the 24 communicants were from St Pius X. This was easily a record for the community.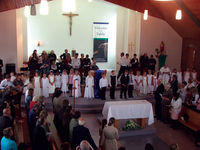 The church was packed. Banners in green and blue draped the walls, and parents had donated a large banner for the front wall with the words 'Welcome to the Table' reflecting the theme for this occasion.
The children and their parents were prepared over several weeks for this event by Clare Whaley and Tricia Davies who, with Trish Corboy DRS and chaplain Sr Mary Wyss also compiled the liturgy.
Fr Kevin O'Donoghue SM, of photographic prayer fame, celebrated the Mass. St Pius X hosted the breakfast in the school library with parents to the fore in Classroom 3.
This great day was a superb example of the strength of the bond between St Pius X school and St Philomena's parish.