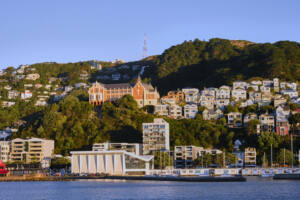 WelCom May 2023
St Gerard's Monastery on Mt Victoria has been sold to new owners.
The landmark heritage building went on the market on 24 February. The category one, heritage-listed church and monastery building, which had been listed with a declared RV of $16.9 million, was sold in March after three weeks on the market.
Confirming the sale, real estate agent James Copeland, said settlement on the property is at the end of June.
The future of the building, a landmark on Wellington's skyline, was yet to be revealed after it was sold to the new owner, reported to be an ex-pat New Zealander.
The buildings had previously sold in 1990 for $540,000 to the Institute for World Evangelisation – ICPE Mission, which used them as a retreat and training centre for missionaries.
They were closed almost two years ago after the organisation failed to raise enough funds to carry out the required earthquake-strengthening work.
The buildings are rated just 25% of the building standard and need significant work to bring it up to current standards.
ICPE Mission director Silvana Abela told media at the time that they started to feel a moral responsibility towards the safety of people and so it would remain empty until it could be fixed.
The final Mass was held on 23 May 2021 and the church has since been deconsecrated.
James Copeland said while Wellingtonians had been devastated to learn several years ago that it was being closed down as a church, he believed they understood it needed someone to step in and carry out the earthquake strengthening and refurbishing.
'It is a heritage building so it will be up there on the hill looking the same way that it does, it may not be serving the same purposes, but it will be up there looking the same way that it does for the next 100 years.'
The church was built in 1908 and the monastery several decades later in 1932. Both were designed by the city's most well-known architects of the time, John Swan and Frederick de Jersey Clere.
Sources: CathNews; OneRoof NZ