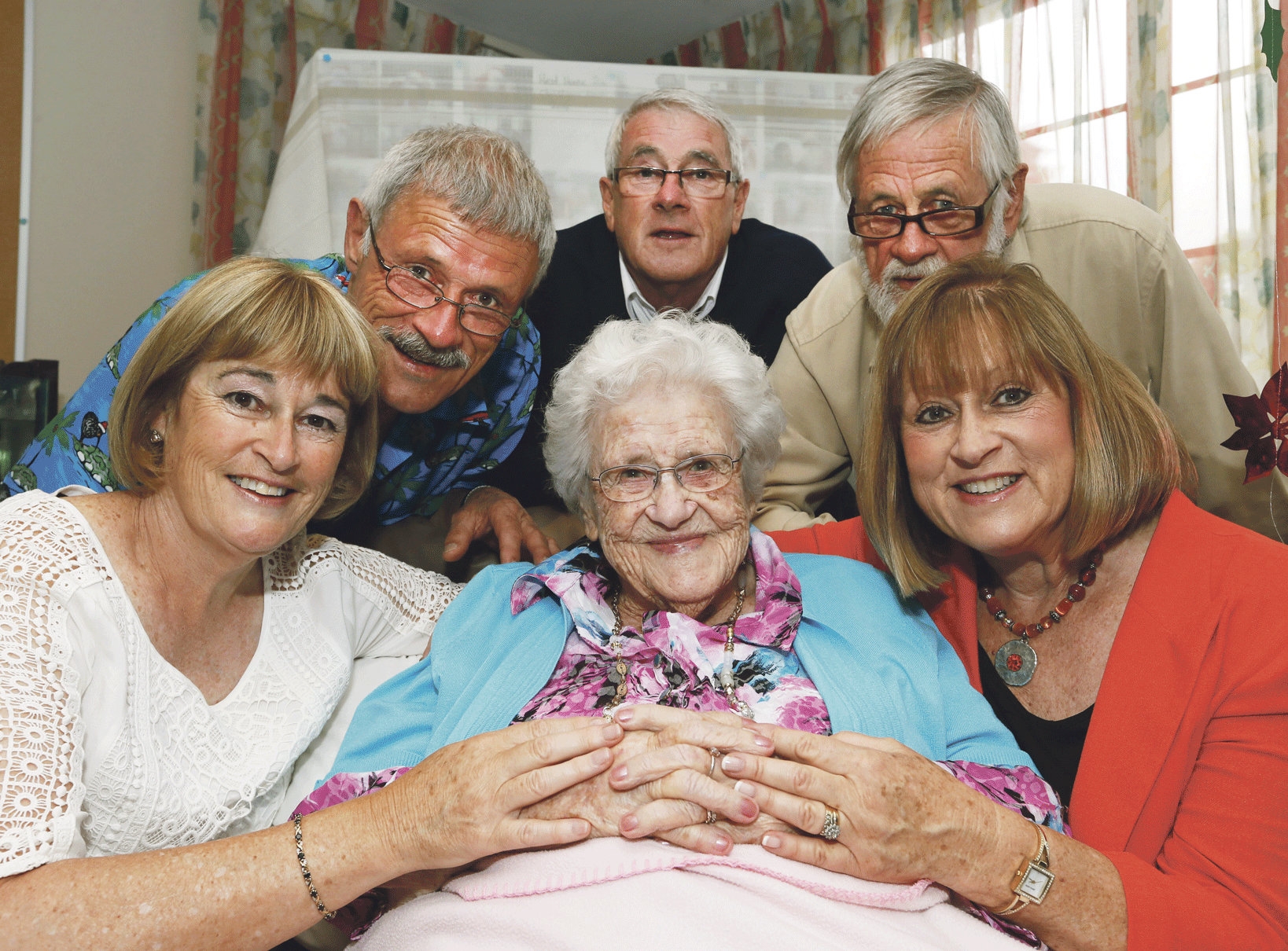 February 2015
News
Trish Bullard
Winifred Scahill, parishioner with Ss Peter and Paul Church Lower Hutt and the Archdiocese of Wellington for 66 years, turned 100 on 19 December 2014. Surrounded by children Peter, Michael, Tony, Trish and Anna along with 35 other family members and friends, Win celebrated with a high tea at Nelson's Wood Retirement Village.
MC and nephew Patrick Scahill read messages from the Queen, Prime Minister John Key, MPs, family and friends. A highlight for Win was a papal blessing from Pope Francis.
Win was born in Lower Hutt's Epuni St in 1914 and lived there with her parents and grandparents until she was six. The family moved to a house Win's father built in Knights Road. During the polio epidemic of 1925, Win stayed with an aunt and uncle near Taihape. While on holiday there in 1931 she felt the Napier earthquake.
After a few years working in Wellington, Win went with her sister Molly to Springfield in Canterbury to live with an aunt and uncle. Returning to Lower Hutt in 1937, she built a house on a section she had purchased as a teen.
On 19 April 1941, Win married John Scahill in a classroom at St Peter and Paul's school. Win and John had six children (one deceased, Mary) who all attended local Catholic schools. They enjoyed 56 happy years and travelled to Europe and the USA, before John passed away in 1997.
Win settled into a retirement village in Nelson close to her daughter Anna in 2002.
Win has been blessed with 23 grandchildren, 13 great-grandchildren, and two great-great- grandchildren. Her latest great-grandchild was born the eve of her 100th birthday.
In Win's own words, 'God has given me a long, happy and adventurous life, and has helped me through troubles. Keep up your prayers, pray hard and God will help you.'
Winifred Scahill's daughter Trish Bullard is a Te Awakairangi parishioner at Ss Peter and Paul Church, Lower Hutt.