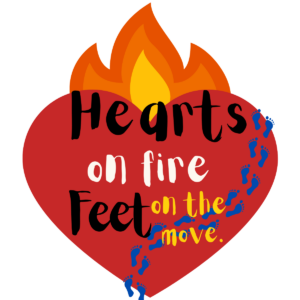 WelCom October 2023
World Mission Sunday is held on the second-to-last Sunday every October with Mass celebrated especially for Catholic missionary activity worldwide. It was created by Pope Pius XI in 1926 as the day of prayer for missions and is held in every Catholic community. Donations collected for Mission Sunday go to support Catholic missionary work throughout the world. In 2023, World Mission Sunday will be celebrated on Sunday, 22 October. The following story is about an Australian missionary nun and doctor whose life's work and legacy have her on the pathway to become Australia's second saint.
Pope Francis' message 2023 World Mission Sunday 2023, released in January this year, has the theme Hearts on fire, feet on the move (Lk 24:13-35).
Pope Francis said the theme was inspired by the story of Jesus and the disciples on the road to Emmaus after the resurrection. He says coming to know Jesus through the Scriptures and the Eucharist should fill Catholics with enthusiasm to joyfully share the Gospel with others.
Pope Francis encourages people around the world to renew their commitment to spreading the Good News and to support missionary work. He reflects on the resilience everyday missionaries demonstrate in their life-giving work and the burning passion for God and people that inspires their hearts. Dedicating their lives to others, in partnership with communities, missionaries aim to create a positive change through spiritual care and the implementation of grassroots projects, such as healthcare and education, reaching far beyond Catholic communities.
World Mission Sunday 2023 will be celebrated during the assembly of the Synod of Bishops, and Pope Francis also used his message to talk about the missionary profile of the synod.
'The urgency of the Church's missionary activity naturally calls for an ever-closer missionary cooperation on the part of all her members and at every level. This is an essential goal of the synodal journey that the Church has undertaken, guided by the key words: communion, participation, mission.'
Read the Pope's 2023 Message in full online at: tinyurl.com/Francis-World-Mission-Day
India's largest voluntary healthcare network Australian founder on path to sainthood
Sr Mary Glowrey, a Jesus Mary Joseph nun and Australian missionary, founded in 1943 the Catholic Health Association of India to provide curative care to the poor, especially women and children.
The Catholic Church is investigating the cause for canonisation of the first Catholic religious sister to practise as a doctor who was also an Australian missionary nun who founded India's largest non-government healthcare network.
Sr Mary Glowrey's cause for canonisation opened in 2010 and, declared a Servant of God in 2013, her position is now before the Dicastery for the Causes of Saints. The initial phase looked at her work and writings her religious life and now progresses to the next phase for possible beatification.
An outstanding humanitarian and medical professional, the Catholic Church has put Dr Glowrey on the path to becoming Australia's second saint, after the canonisation of Sr Mary McKillop in 2010.
In 1920 Sr Mary, the Australian sister-doctor landed in Guntur, Andhra Pradesh, in southern India, where she joined the Dutch order of religious sisters called the Congregation of the Society of Jesus, Mary and Joseph. In 1943 she founded along with 15 sisters what is now the Catholic Health Association of India (CHAI), covering today's India, Myanmar, Sri Lanka and Pakistan.
The association worked to promote the Christian use of medicine in the midst of World War II and later established a Catholic Medical College in India to train health professionals both in medical care as well as in Catholic ethics, teachings and the understanding of the inviolability of human life. Today, CHAI is a network of 3,572 healthcare and social service institutions across India, annually serving 21 million patients (approximately 1.5 per cent of India's population), most of them poor, especially women and children.
Employing more than 76,000 health professionals, the network undertakes medicine, surgery, dentistry, midwifery, pharmacy, psychology, nursing or allied health professions. Much of its work is done in rural and remote areas of the country and it has been successful in implementing a wide variety of projects in communicable diseases, non-communicable diseases, disaster intervention and strengthening of the healthcare system. Its key focus areas are community health, palliative care, children affected by HIV/AIDS, and disability. During 2018–2019, CHAI reached out to 2.8 million people and over 540,000 households through awareness activities.
Radiating Christ by word and example
Mary Glowrey was born in 1887 in the small town of Birregurra in regional Victoria, Australia. She won scholarships to secondary school and in 1904 she was awarded a scholarship to Ormond College to study for a Bachelor of Arts. She switched to medicine in early 1906, a time when there were few female medical students at the University of Melbourne.
She graduated with a Bachelor of Medicine and Bachelor of Surgery in Medicine in 1910 and began her medical career at the newly founded Clinical School at St Vincent's Hospital. At the time, no medical residency positions were available for women in Melbourne so she moved to New Zealand, where she became the first female doctor at Christchurch Hospital and one of the first two women appointed to a residency position in
New Zealand.
When Mary returned to Victoria, she focused on improving the health of underprivileged women and children, supporting this work herself through her appointments at St Vincent's Hospital, the Victorian Eye and Ear Hospital and her private practice. She treated the unemployed and impoverished free of charge.
She founded the Catholic Women's Social Guild and in 1916 became its first General President –now the Catholic Women's League of Victoria and Wagga Wagga.
She undertook higher medical studies, graduating with a Doctor of Medicine in 1919 in obstetrics, gynaecology and ophthalmology from the University of Melbourne.
After reading about the appalling death rate among babies in India, in 1920 Mary gave up her career as a doctor in Australia to take up a calling to India to care for vulnerable women and children. She became a religious Sister with the Society of Jesus Mary Joseph in Guntur and served as a Sister doctor in Guntur, in India's rural southeast. She directly and indirectly ministered to hundreds of thousands of patients who would not otherwise have received care. She would stay working in India until her death from cancer in 1957, in Bangalore, southern India, at 69 years of age.
Testimony from those who knew her, show that Mary's intellect, love for God and sensitivity were evident from a young age and that she regarded medicine as her first vocation, having prayed for guidance as to what to study, at a time when many viewed the medical profession as unsuitable for women. Throughout her life she was said to radiate Christ by word and example and according to those who knew her she initiatives were always undertaken first praying to the Holy Spirit.
Mary Glowrey was known as the first Catholic religious nun to practise as a doctor, receiving permission from Pope Benedict XV in 1920. This was before canon law allowed women religious to be doctors. In her 37 years of service, Sister Mary oversaw the treatment of hundreds of thousands of patients, viewing care for bodies as equal to care for souls.
A humanitarian, advocate for women's rights and a systems thinker, Mary devoted her life to improving healthcare in India, where she expanded a small mission into a full hospital that cared for 637,000 patients between 1927 and 1936. She went on to establish health care systems and institutions that now look after more than 21 million people annually.
Inspired by the Church's teachings on social justice, Mary sought to change society not just through prayer but action. Her profound faith, compassion for others and brilliant intellect, juxtaposed with a humble and shy nature, led her to push the boundaries of the roles that women could play in society.
Sources: La Croix, September, 2023; Vatican Media