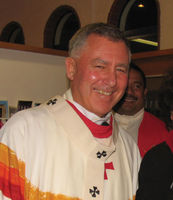 On 14 and 15 September I was present at the ceremonies for the re-opening of the Cathedral of St Patrick and St Joseph (yes, Bishop Pompallier named the first Auckland Cathedral after St Patrick and St Joseph).
I congratulate Bishop Pat Dunn, the clergy and people of the Auckland Diocese on the wonderful work done in providing this magnificently restored cathedral. It is, and will be for many years to come, a house of prayer, a place of blessing, a home in which people are nurtured by word and sacrament. The Auckland Cathedral is truly a place where God is present and of which all can be immensely proud.
A project such as this cost an enormous amount of money; in this case it is money well spent.
At the civic ceremony on Saturday afternoon, Bishop Pat spoke about the amount of money and equated it with the money we are investing in World Youth Day. Bishop Pat's words are part of the message of our New Zealand World Youth Day Project Manager, Dave Mullin.
Dave has been reminding us for many months that we are building a living cathedral, the stones of which represent young people.
With all the money which will be spent through pilgrims' registrations, air tickets and other costs and with the New Zealand dioceses hosting 'Days in the Dioceses' we, too, are investing large sums of money. Our dioceses, parishes, homes will be open to pilgrims from other parts of the world offering genuine Kiwi hospitality. This will be at a financial cost to us all, a cost which has long-term benefits for the church in New Zealand.
Pope John Paul wrote in Ecclesia in Oceania,
Bishops wished them to know that they are a vital part of the church today, and that church leaders are keen to find ways to involve young people more fully in the church's life and mission. Young Catholics are called to follow Jesus: not just in the future as adults, but now as maturing disciples.
(Ecclesia in Oceania 44)
World Youth Day gives us the opportunity to make Pope John Paul's words a reality and to build a cathedral with and for our young people. This will be a legacy that goes beyond their lifetime and to the life of the church and that of their families of the future.
The renovation and restoration of the Cathedral of St Patrick and St Joseph took years of planning and work. We are putting the same kind of effort and investment into our preparation for World Youth Day.
You can help build this living cathedral made up of the young adults and youth of New Zealand. You are able to be involved in the preparation, the hosting of pilgrims from other parts of the world and the ongoing challenge of empowering young people to take up the active apostolate to which the church is now calling them. You can encourage them to play their part joyfully and energetically in the life of the church at every level: universal, national, diocesan and local.
Through the efforts of the church of New Zealand God will continue to be present in the lives of our youth and young adults, of whom we are immensely proud. We pray that all will be a cathedral fit for the indwelling of God. We pray that all who prepare for and go to World Youth Day will be, like our cathedrals, the visible presence of the body of Christ. We pray for ourselves, we pray that we will always know that we are temples of the Holy Spirit, cathedrals where God lives.
John Dew