Youth
Dan Siave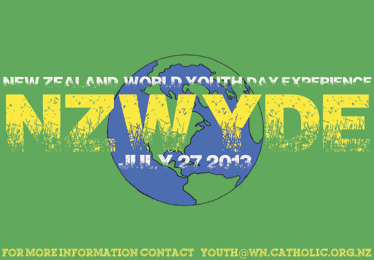 Can't make it to World Youth Day in Rio? Don't worry, Come to NZWYDE!
On Saturday 27 July 2013, as millions gather in Rio de Janeiro, you are invited to join Archbishop John Dew and young people from around the diocese to share faith, food and an all-round awesome time at New Zealand World Youth Day Experience 2013.
The first NZWYDE, held in 2011, saw more than 400 young people take part. We hope that this year will be even bigger.
Coordinated by Young Church Ministries, NZWYDE is a day-long event which gives the key elements of WYD a truly New Zealand flavour; it is a chance to celebrate young people and their gifts and talents.
The day includes Catechises with the Archbishop, Mass, a cross pilgrimage on Wellington's waterfront, the Showcase concert, prizes, food and some of the best company you can find anywhere. Come along and be part of the experience.
The event will be held in central Wellington starting at Sacred Heart Cathedral in Thorndon.
Although NZWYDE focuses on the 15-35 age group, it's open to people of all ages.
Performers are currently being sought for the Showcase concert. If you have a talent or item you would like to have included in the programme, email your details.
Full-day registration including lunch and dinner is just $20 or, for $35, the works package includes a limited edition NZWYDE t-shirt.